Support
News in Giving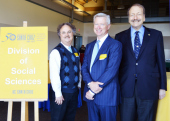 Inspiring Alumni: Stephen Bruce, a 1979 economics graduate of Cowell College, named Distinguished Social Sciences Alumni Award winner. Bruce is also a generous donor to UC Santa Cruz and currently serves as a trustee on the UC Santa Cruz Foundation. Read more >
The Development Office for the Division of Social Sciences partners with faculty, alumni and friends of the Social Sciences to foster philanthrophy and to promote awareness of the achievements of the Social Sciences faculty, departments and students.
State appropriations do not fully fund our programs, and private support helps to maintain the level of academic excellence for which the social sciences at UC Santa Cruz are known.
With 46% of UC Santa Cruz undergraduate degrees awarded in social sciences majors, a gift in the social sciences makes an important contribution to the vitality of UCSC and the development of society's future leaders.
Your generosity supports a leading research university with an uncommon commitment to undergraduate teaching and interdisciplinary scholarship.
For examples of ways to give, click here.
Please contact one of our staff members for more information:
Why We Give

The Websters' generous gift will rebuild the Cowell Ranch Hay Barn. Read more >>
Anne Hayes,
Associate Director of Development
(831) 502-7274
THANK YOU
See
Also