The Martin M. Chemers Award for Outstanding Research
This Division of Social Sciences award recognizes a senior faculty member whose research has had a substantial cumulative impact on her or his discipline over a number of years. The awardee will have a solid national and international reputation in her or his field.
Donald Wittman presenting award to Anna Tsing 2011
The award recipient is honored publicly at the division's annual fall breakfast and receives a plaque as well as a $2,500 cash award. Past winners include: Barbara Rogoff (Psychology) in 2017, Andrew Szasz (Environmental Studies) in 2016, Craig Haney (Psychology) in 2015, Diane Gifford-Gonzalez (Anthropology) in 2014, Carl E. Walsh (Economics) in 2013, Deborah Letourneau (Environmental Studies) in 2012, Anna Tsing (Anthropology) in 2011, Donald Wittman (Economics) in 2010, Adrienne Zihlman (Anthropology) in 2009, Daniel Friedman (Economics) in 2008, and Bruce Bridgeman (Psychology) in 2007.
Nominations for the 2017-2018 award will be accepted until

 

4:30 pm

 

on

 

Friday, May 25, 2018

.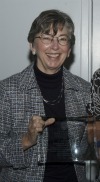 Adrienne Zihlman, 2009
Submit a 2017-2018 nomination.
Department Chairs in the Social Sciences are encouraged to nominate one or two of their faculty. Nominees must be current faculty members of the UCSC Division of Social Sciences. Faculty planning to retire or otherwise separate from UCSC during Summer or Fall are still eligible in a given year.
Nomination packages should included: a cover letter explaining why the nominee is worthy of the award along with the nominee's recent CV or bio-bibliography. The selection committee will only consider individuals nominated (or re-nominated) that year. Re-nominations need to be self-contained replacements of an earlier nomination. The committee will determine whether additional information is needed after they review the records of the various nominees. Nomination materials must be submitted electronically to Pam Dewey by 4:30 pm, Friday, May 25, 2018.
Feel free to contact Pam if you have any questions about the nomination or review process.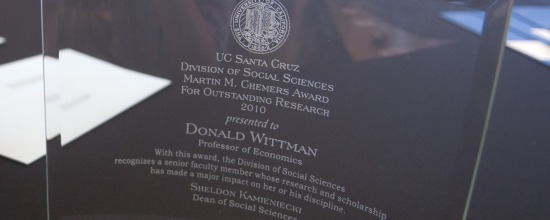 Donald Wittman receives Martin M. Chemers Award
See
Also