Call for Nominations for the 2018 Outstanding Staff Recognition Award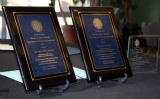 This award recognizes outstanding service to both the division and the university.
Nominations will be accepted until Friday, June 8, 2018.
The winner will be honored publicly, and receive a plaque and a cash award at the division's annual fall breakfast event in October 2018.
Thanks to the 2017-2018 selection committee: Politics Chair Dean Mathiowetz, Services Learning Coordinator Abbey Asher, and Assistant Dean David Sonnenberg.
Please contact Executive Assistant to the Dean Pam Dewey with related questions or concerns.
See
Also