The Martin M. Chemers Award for Outstanding Research
This Division of Social Sciences award recognizes a senior faculty member whose research has had a substantial cumulative impact on her or his discipline over a number of years. The awardee will have a solid national and international reputation in her or his field.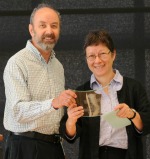 Donald Wittman presenting award to Anna Tsing 2011
The award recipient is honored publicly at the division's annual fall breakfast and receives a plaque as well as a $2,000 cash award. Past winners include: Lisa Rofel (Anthropology) in 2018, Barbara Rogoff (Psychology) in 2017, Andrew Szasz (Environmental Studies) in 2016, Craig Haney (Psychology) in 2015, Diane Gifford-Gonzalez (Anthropology) in 2014, Carl E. Walsh (Economics) in 2013, Deborah Letourneau (Environmental Studies) in 2012, Anna Tsing (Anthropology) in 2011, Donald Wittman (Economics) in 2010, Adrienne Zihlman (Anthropology) in 2009, Daniel Friedman (Economics) in 2008, and Bruce Bridgeman (Psychology) in 2007.
Nominations for the 2017-2018 award will be accepted until 

4:30pm

 on 

Friday, May 25, 2018

.
How to submit a nomination
Department Chairs in the Social Sciences are encouraged to nominate one or two of their faculty. Nominees must be current faculty members of the UCSC Division of Social Sciences. Faculty planning to retire or otherwise separate from UCSC during Summer or Fall are still eligible in a given year.
Nomination packages must include:
1. An updated curriculum vitae / biobibliography that indicates what month and year it was last updated.
2. A cover letter which includes an evaluation of the nominee's research that highlights their prominence, range and scope of contributions and the national/international impact of their research. This could include, for example:
Assessment of the relative prestige of honors received in their field.
Identification of the prominence of the journals and books in which they tend to publish.
Other evidence of the respect their work has received, such as invitations for plenary addresses and for editorships.
Explanation of the importance of their research contributions to their discipline, interdisciplinary endeavors, cross-disciplinary communication.
If relevant, the nomination could also explain research contributions to local communities in their study area or engagement with the communities involved in their research. For example, if working overseas, making research contributions to communities of scholars in the region or country they study.
The selection committee will only consider individuals nominated (or re-nominated) that year. Re-nominations need to be self-contained replacements of an earlier nomination. The committee will determine whether additional information is needed after they review the records of the various nominees. 
Nomination materials must be submitted electronically to Pam Dewey by 4:30 pm, Friday, May 31, 2019. The awardee will be announced in early June.
See
Also