Politics professor Mark Fathi Massoud book about law in Sudan recently received an honorable mention for the prestigious C. Herman Pritchett Prize. This marks the second award for Law's Fragile State, Massoud's groundbreaking look into the problems Sudan faced in establishing a legal order.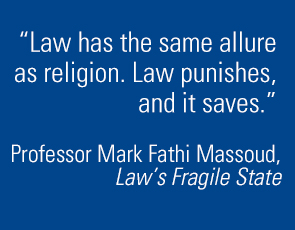 Massoud shows how Sudan - a country the UN has defined as a failed state - can serve as a case study for other volatile countries that are transitioning out of authoritarian or postcolonial regimes.
"The case of Sudan reveals this mutli-faceted nature of law and legal processes and ultimately, how law is essential to, rather than missing from, unstable political environments." Massoud shares.
Massoud explores how law is used to establish social, moral, political and economic order. But this process towards legitimacy, as Massoud shows, is often achieved through illegitimate means. 
For Sudan, the transition from post-colonialism resulted not in democracy but to autocratic rule, tense with failed military regimes, warfare and violence. As Massoud points out, Sudan's trajectory is not dissimilar to Chile under Pinochet or apartheid South Africa.
He points out that a downside to disrupting authority is the chaotic and bloody direction it can take. He warns "where the law supplants violence, it can allow an illegitimate government to appear more moderate, thereby augmenting its authority." 
As Massoud argues, the problem is not so much the law itself, but how people can manipulate and manufacture it for their own advantage. Sudan, as a case study, demonstrates how "the normative content of the law – and, by extension, the rule of law – is shaped by the actors who use it."
Law then, is also its own savior that needs protection and control.
Earlier this year, Mark Massoud received the Law and Society Association Herbert Jacob Book Prize (2014) for this work.
Students interested in studying with Mark Massoud can find opportunities
in the Politics class schedule
.