Weiss Family Scholarship Endowment
Established in 2005 by Timothy and Jean Weiss, the Weiss Family Scholarship Endowment provides scholarships to support students in Colleges Nine and Ten.
The Weiss Family Scholarship enhances the mission of the Division of Social Sciences research centers, rewarding outstanding students, strengthening student/faculty connections, and providing an additional incentive for the research centers to involve the students within these two Division of Social Sciences residential colleges.
A merit based scholarship, the Weiss Family Scholarship provides one or more awards to undergraduate students at UC Santa Cruz, in any major, who are affiliated with College Nine or College Ten and are working directly with faculty within the research centers. The scholarship selection is administered by the Dean of Social Sciences. For more information contact (831) 459-2919.
Meet the 2021 Weiss Family Scholarship Recipients!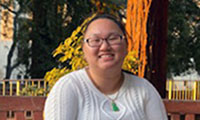 Han Dinh, College 10, is a sociology major with a concentration in GISES.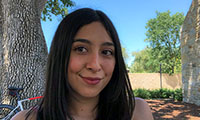 Montserrat Lopez, College 10, is a Latin American and Latino Studies major, and a Spanish Studies major with a concentration in Literature.
Save
Save
See
Also