Professor Emeritus of Psychology Elliot Aronson wins 2012 Distinguished Social Sciences Emeriti Faculty Award
Dr. Elliot Aronson has been selected as the winner of the 2012 Distinguished Social Sciences Emeriti Faculty Award for his significant contributions to social psychology, on-going accomplishments in path-breaking research and numerous honors and accolades. We honor his success and the enduring impact of his teaching, mentorship, and scholarship.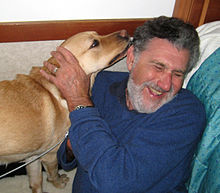 Elliot Aronson with his guide dog

The Distinguished Social Sciences Emeriti Faculty Award is presented annually to an emeriti faculty member who has excelled not only in her or his scholarly, educational, or creative endeavors during her or his career and retirement, but who has continued to make noteworthy and meritorious contributions to UC Santa Cruz and the broader community.
Aronson's record of achievement and acclaim as a scholar, author, and teacher, and his active engagement as an important member of the academic community merit special commendation and appreciation. His commitment and vision embody the spirit of this award.
Aronson is the only person in the 120-year history of the American Psychological Association to have won all three of its major awards: Distinguished Teaching, Distinguished Research, and Distinguished Writing, and he was the first recipient of the UCSC Alumni Association's Distinguished Teaching Award. Since retiring, he has been awarded two important international awards: the Distinguished Research Award from the American Psychological Association (1999) and the William James Lifetime Achievement Award from the Association of Psychological Science (2007). He also won the University of California system-wide Panunzio Award (2011). Since retirement, Aronson has written four books, and he has updated his book, The Social Animal, now in its eleventh edition.
Aronson was publicly honored at an award luncheon on Friday, April 27, 2012.
See
Also