What a year!
The Division of Social Sciences reflects on some of the many amazing achievements and inspiring moments from 2017.
Welcoming a new dean
In August, the Division of Social Sciences welcomed a new dean. Katharyne Mitchell joined UC Santa Cruz from the University of Washington, where she was a professor of geography. She spent the past year on a Guggenheim Fellowship which she used to explore the concept of sanctuary and the role of faith-based movements in migration policy and human-rights discourse in Europe. Her research is wide-reaching, covering transnational migration, refugees and asylum policy, immigrant integration, citizenship, and education. She earned a bachelor's degree in art and archaeology from Princeton, and a master's and a Ph.D. in geography from UC Berkeley. Learn more about Dean Mitchell >
So many amazing awards
In 2017, faculty in the social sciences received prestigious international awards and recognition.
Politics professor Sikina Jinnah was named a 2017 Andrew Carnegie Fellow and Julie Guthman received both a Guggenheim Fellowship and a Radcliffe Fellowship. George Bunch in education won an American Education Research Association award. Daniel Friedman in economics was named president-elect of Economic Science Association. Karen Holl was recognized for tropical forest restoration work by the Society for Ecological Restoration. Social psychologist Tom Pettigrew received the Centennial Medal from Harvard University for his research on racial relations. Jenny Reardon in sociology received a Humboldt Foundation award for her work on addressing the rise of big data in the life sciences.
Our faculty are not the only ones receiving awards. Our accomplished graduate students have been recognized as well. Michael Wilson Becerril, a doctoral candidate in politics, has been named a 2017-18 Jennings Randolph Peace Scholar. Candy Martinez in the Latin American and Latino Studies Department became a Fulbright U.S. Student Researcher for her research on indigenous responses to trauma in Oaxaca, Mexico.
Exploring new ideas
For the fiscal 2016-17 year, the Division of Social Sciences was awarded almost $9 million in grant funding to support research. Faculty received funding to examine new innovations in agriculture, financial markets, big data, governance and water rights, global migration, labor relations, urbanization, and other topics. Thanks to the growing list of donors, projects and programs in the division saw more than $4 million in private philanthropic contributions.
Outstanding research and publications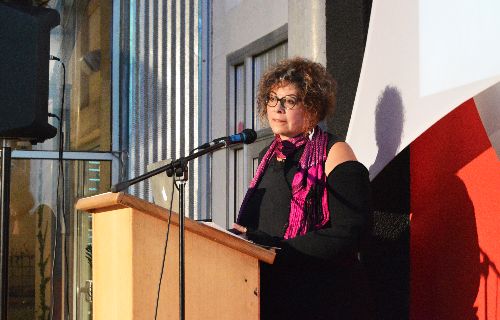 At the fifth annual Research Frontiers Evening in October, faculty showed why a social sciences perspective is needed more than ever to confront the assumptions framing everyday experiences. Katharyne Mitchell, dean of the Division of Social Sciences spoke about her vision for the future, sociologist Steve McKay talked about community-initiated, student-engaged research on the Santa Cruz housing crisis, cultural anthropologist Lisa Rofel discussed China and globalization, Gabriela Arredondo discussed LatinX migrations, Leila Takayama explored the role robots play in society, environmentalist Karen Holl discussed tropical forest restoration , and Sikina Jinnah explored the complexities of climate engineering. 

Throughout the year, faculty research and scholarship were featured in some of the academy's top journals. Each quarter, the division features faculty publications in Research Roundup. Previous editions can be read on our website >
Nurturing activist scholars
In January, UC Santa Cruz faculty, students, staff, and community partners gathered at a campus-wide teach-in as part of a nationwide day of democratic education and action. Teach! Organize! Resist! event highlighted the importance of critical thinking and engaged scholarship under the Trump administration. Immigration, religious freedom, economic inequity, participatory budgeting, political activism, and climate science were just some of the many challenging topics addressed by UC Santa Cruz faculty and representatives from community organizations at the all-day teach-in. Read more >
Changing policy in a changing climate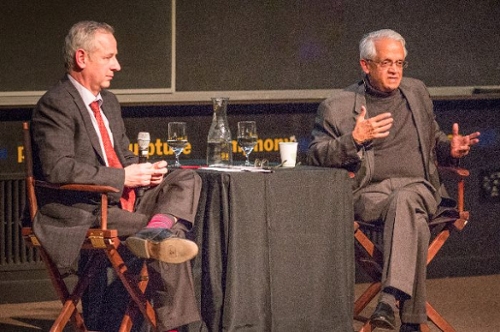 In February, the Division of Social Sciences and the Division of Physical and Biological Sciences hosted the fourth annual Climate Science and Policy Conference. The two-day event brought together top climate scientists and policy experts for a series of talks and panel discussions.  The keynote speaker was Veerabhadran Ramanathan, the renowned professor of atmospheric and climate sciences from UC San Diego. He made the case that climate change now poses an existential threat to our civilization. "Climate change can reach crisis levels in this century, affecting rich and poor alike," he said. "It is an urgent problem and requires urgent solutions." Read more >
Save the date for the 5th annual Climate Science and Policy lecture: March 7. More info >
Honoring Prop 8 plaintiff and UC Santa Cruz graduate Kris Perry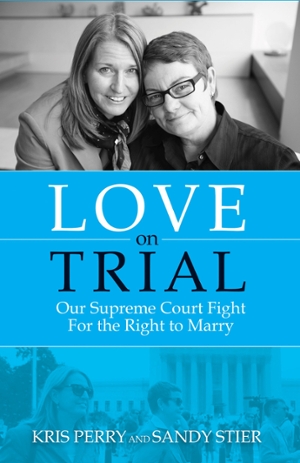 In April, Kris Perry (sociology and psychology '86, Merrill) was named the 2017 recipient of the Social Sciences Distinguished Alumni Award. Perry was the lead plaintiff in the historic legal case that overturned Proposition 8, California's ban on gay marriage. Perry has had a prominent career in the child advocacy and policy field. In 2012, she was appointed executive director of the First Five Years Fund, a bipartisan advocacy group devoted to early childhood education for disadvantaged children. Read more about Perry's remarkable achievements >
Championing environmental stewardship
In May, Ronnie Lipschutz, a professor of politics and provost of Rachel Carson College, was honored as the inaugural holder of the Robert Headley Presidential Chair for Integral Ecology and Environmental Justice. The chair was established to support the work of a faculty member dedicated to educating students about the conceptual and applied aspects of environmental science and stewardship. Lipschutz conducts research in and writes on a range of topics related to global political economy, including corporate social responsibility, environmental politics, energy and resources, and sustainability. Learn more about the Robert Headley Presidential Chair for Integral Ecology and Environmental Justice >
Fixing a broken prison system
Psychology Professor Craig Haney was an expert witness in a lawsuit filed by the Southern Poverty Law Center (SPLC) that demanded the Alabama Department of Corrections end deplorable conditions in their prison system.
In June 2017, U.S. District Judge Myron H. Thompson ordered state officials to reform the system that Haney described as unimaginable squalor. "The segregated housing units I saw—all of them—were dehumanizing and degrading, and subject prisoners not only to extreme forms of isolation but to severe deprivations in almost every conceivable way."
"This ruling means that prisoners with mental illness may finally get the treatment they have been denied for so long," said Maria Morris, SPLC senior supervising attorney. Haney has spent four decades documenting the long-term psychological damage of solitary confinement. Thanks to his testimony and the hard work of the SPLC, the Alabama Department of Corrections will be held accountable for the constitutional violations in the prison system. Read more about this landmark case >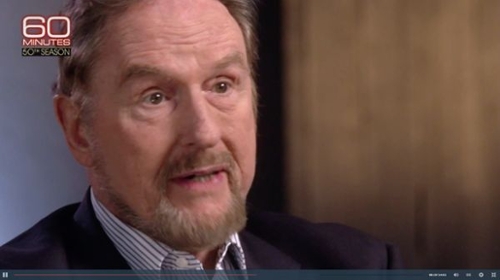 Separately, Haney was interviewed by Oprah Winfrey for a "60 Minutes" special about solitary confinement at California's Pelican Bay State Prison. The program aired in October.   Learn more >
Celebrating 50 years of organic farming
The campus celebrated the 50th anniversary of the UC Santa Cruz Farm & Garden and the Center for Agroecology & Sustainable Food Systems with a three-day event. Over those five decades, the program trained generations of new organic farmers and gardeners, offered UC Santa Cruz students unique experiential learning opportunities, and helped shape a more sustainable food system through research and policy efforts. The commemoration culminated with an inspirational dinner hosted by famed chef, restaurateur, and organic food advocate Alice Waters and apprenticeship alumnus "CheFarmer" Matthew Raiford. Read more >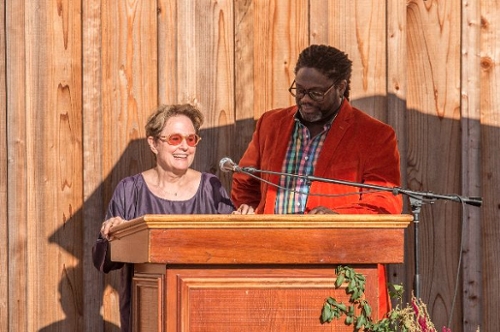 The UC Santa Cruz Farm & Garden also celebrated the 40th work anniversary of the farm's Master Gardener, Orin Martin.
"Orin is a miracle of mentorship. He is a classic teacher, driven equally by his wonder for gardens and the pure joy he gets in seeing his apprentices and students learn," says CASFS Executive Director Daniel Press, a professor of environmental studies. "If Santa Cruz ever has a 'Gardener Laureate,' Orin Martin should be the first one." Learn more about ways Martin has transformed the UC Santa Cruz Farm & Garden >
Hosting a Nobel Laureate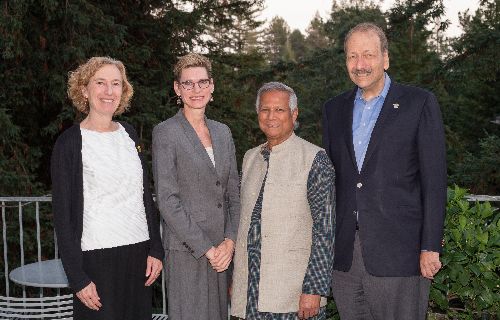 In October, Nobel laureate Muhammad Yunus discussed his vision for an alternative economic system at UC Santa Cruz at an event hosted by the UC Santa Cruz Blum Center for Poverty, Social Enterprise and Participatory Governance and Bookshop Santa Cruz.
"Poverty, concentrated wealth, and rising inequality are among the most pressing problems facing us, and Professor Yunus and his work embodies all that we strive to do at UCSC's Blum Center," said Heather Bullock, a UC Santa Cruz psychology professor and director of the Blum Center, in her opening remarks. Read more >
Recognizing a distinguished record in research
Distinguished Economics Professor Carl Walsh received the Faculty Research Award, the foremost academic honor bestowed by the the Academic Senate. Walsh is one of the world's premiere researchers in the fields of monetary theory and monetary policy. His now-classic papers on central bank governance, optimal monetary policy, and inflation targeting have helped set the research agenda for monetary economists for over thirty years and have had a strong positive influence on the way the U.S. Federal Reserve Bank and central banks abroad conduct monetary policy. The award was given to Walsh at Founders Weekend in October and he will be giving the 52nd Annual Faculty Research Lecture Feb 22, 2018 as part of the honor.
Leading Community-engaged research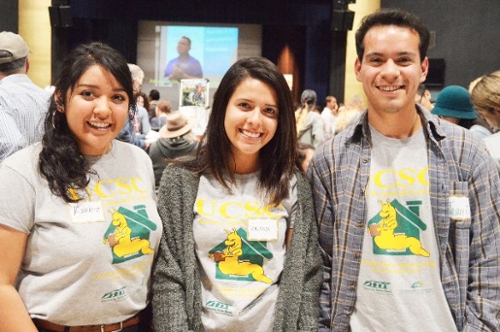 Also in October, more than 600 people gathered to hear findings from "No Place Like Home," a two-year study led by sociology professors Steve McKay and Miriam Greenberg about the affordable housing crisis in Santa Cruz. The event showcased the multimedia project, which included a comprehensive renter survey, interviews, historical and policy analysis, creative non-fiction, documentaries, photography, infographics, and mapping.
For many, the event signaled the beginning of a new movement and activism.
"This is the moment when projects like this one can inform our decision makers and our debates, so that we can shape policy in ways that benefit the greatest number of people, and where we can launch discussions in a civil, respectful manner," said Dean of the Social Sciences Division Katharyne Mitchell. Read more >
Preserving 25 years of Chicano studies  
In November, The Chicano Latino Research Center (CLCR) kicked off its 25th anniversary year with the launch of its archive, Nuestras Historias. The project preserves the legacy of the CLRC and makes a wealth of historical materials publicly available. "UC Santa Cruz has been at the cutting edge of Latino studies and its evolution," says CLRC Director Catherine Ramírez. For 25 years, the CLRC has provided scholars the space to study cultures, societies, people, and institutions of the Americas in innovative and interdisciplinary ways. "Nuestras Historias is a testament of that heritage."
Read more >
Creating community through student stories
Stories are a core part of our individual and collective identities. Now, thanks to a new initiative created by College Nine and College Ten, storytelling is part of the core curriculum. Students have gathered over 700 student stories as part of their "Slug Stories" initiative - and there will be hundreds more to come.
"Stories allow us to connect events that seem isolated into cohesive narratives that illustrate commonalities in the human experience and feed the potential for collective action," says Flora Lu, provost of College Nine and College Ten,  about the transformative experience of storytelling. Learn more >
Awesome alums
Peter Bratt (politics '86, Cowell) produced a documentary about Dolores Huerta . An equal partner in co-founding the first farm workers unions with Cesar Chavez, her enormous contributions have gone largely unrecognized. Now thanks to Bratt, her efforts are being publicized. The film premiered at the Sundance Film Festival and won the Best Documentary Award at the San Francisco International Film Festival. Learn more >
YouTube CEO and UC Santa Cruz alumna Susan Wojcicki was named   the second "most powerful woman in tech by Forbes Magazine. Wojcicki received her M.S. in economics from UC Santa Cruz in 1993. In April 1999, Wojcicki became Google's first marketing manager and its 16th employee where she was tasked to build a worldwide brand with no budget. Find out more about Wojcicki's accomplishments >
Former psychology student Carmen Perez co-chaired the unprecedented Women's March, a series of rallies held across the globe on January 21.  Perez helped mobilize hundreds of thousands of people in the United States, and an estimated 20 million worldwide, united in their affirmation of human rights and equal protection for all. Read more >
Going viral
Research from two of our professors and one of our grad students went viral this year.
Pumas, mountain lions, and humans, oh my! Environmental studies professor Chris Wilmers and recent doctorate alumna Justine Smith published a study that proved pumas are scared of people (the feeling is mutual) . Their study found that when the big cats hear human voices, they flee. Wilmers and Smith's findings were circulated widely by international media, including The Washington Post and LA Times .
Want to go green? Try pink instead! A new study by Environmental Studies Professor Michael Loik tested electricity-generating "smart" greenhouses that are outfitted with a magenta luminescent dye that absorbs light and transfers energy to photovoltaic strips. The study was picked up by almost 30 websites, including Newsweek , Seeker , and Quartz .
See you in 2018, Slugs!
Save the date for these important events:
January 16, 2018
Reception and Investiture Ceremony for the Stephen R. Gliessman Presidential Chair in Water Resources and Food System Sustainability
Dr. Elliott Campbell from the Environmental Studies Department will be the inaugural holder of the Stephen R. Gliessman Presidential Chair. More info >
February 22, 2018
52nd Annual Faculty Research Lecture
Economics Professor Carl Walsh will deliver a talk titled "From the Great Inflation to the Great Recession and beyond: The Interplay of Monetary Theory and Policy." More info >
March 7, 2018
Climate Science and Policy Lecture
The 5th annual Climate Science and Policy event will focus on "Humans and Wild Ecosystems in a Hot World." Newton Harrison of UC Santa Cruz and Scott Wing of the Smithsonian Institution will discuss how humans and wild ecosystems can survive–and even thrive–on a hot planet. More info >