The CONCUR, Inc. Scholarship Award in Environmental Studies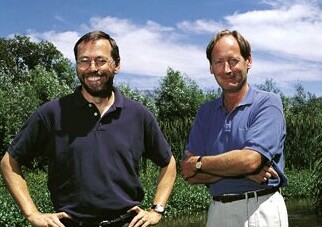 The CONCUR, Inc. Scholarship Award in Environmental Studies was established in 2001 by company founders and UC Santa Cruz alumni John K. Gamman (Crown '74) and Scott T. McCreary (Crown '76).
CONCUR, Inc. is an environmental mediation firm specializing in combining environmental policy analysis with facilitation and mediation skills to resolve complex disputes involving scarce or limited natural resources. Since 1987, CONCUR, Inc. has worked both nationally and internationally as facilitators, mediators, and trainers to resolve regional, statewide, national, and bioregional disputes. CONCUR, Inc. has helped to resolve cases involving water, fisheries, forests, land use, wetlands, endangered species protection, health risk, flood control, and cross-cultural conflicts involving indigenous and developing country communities.
McCreary and Gamman credit their undergraduate education at UC Santa Cruz for much of the success they've had as environmental mediators, saying that the education they received gave them a thorough grounding in the issues underlying environmental disputes and the motivation to work in the field and to continue their education.
McCreary went on to UC Berkeley's College of Environmental Design to study environmental planning. Gamman studied public policy at the Kennedy School of Government at Harvard University. Both earned their doctorates in what Gamman calls 'the MIT cauldron' in the Department of Urban Studies and Planning. Throughout this demanding graduate education, both counted on the insight and perspective they gained in their formative years at UC Santa Cruz. They re-connected at a Pat Metheny concert on the Boston Common during their MIT years. Their first shared consulting job, in Barbados, where they trained top environmental officials from several countries, led to their later work in Australia and New Zealand.
CONCUR's work has included some of the most important, complex environmental policy issues, state water policy, national and international fisheries policy, a current countywide dialogue on stream setback and water resource protection involving almost 20 jurisdictions. As well, they have worked internationally in 15 nations, including bringing the first-ever training in environmental negotiation to New Zealand's Ministry for the Environment and helping to launch collaborative negotiation over transboundary water management in Southern Africa.
McCreary and Gamman established the CONCUR, Inc. Scholarship Award to give other UC Santa Cruz students a helping hand into the field. Gamman said, "We want to help students get the same quality experience we got at UCSC as undergraduates. If we can provide some assistance to an outstanding student each year, that would be a very meaningful contribution for us."
The two alumni noted that financial support for undergraduates can make a real difference for these students. In their work, Gamman and McCreary certainly make a difference. In mediations involving public policy, endangered species, and economic development, public health and safety are at stake, not to mention hundreds of millions of dollars. Passions run deep, and opposing sides are often angry at the beginning of the process. After mediation, groups often reach a moment McCreary describes as transformative, saying "They cross a bridge from representing only their own narrow interests to making decisions based on the interests of many; it is satisfying to be a part of that." Being able to bring a multidisciplinary perspective helps, too. "We find that a key to doing this work well is to combine a strong knowledge of environmental issues with strong political analysis and strategic planning," he observes.
The CONCUR, Inc. Scholarship Award is made annually to one or more undergraduate or graduate students majoring in Environmental Studies. It is based on academic merit, as indicated by performance in classes and internships and academic recommendations. Preference is given to students showing a demonstrated interest in pursuing studies in environmental dispute resolution. To date, five CONCUR, Inc. Scholarships have been awarded.
For more information about this scholarship, please contact the academic support coordinator in the Environmental Studies Department by telephone (831) 459-4136 or email or visit the department's website.
See
Also