Jeremy Demian Marx Award for Cultural Anthropology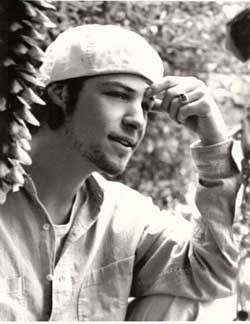 Jeremy Demian Marx was an Anthropology major at UCSC who focused on topics like rituals, festivals and life transitions in different cultures.
The Jeremy Demian Marx Award for Cultural Anthropology endowment was established in 1993 by Alan Marx, M.D., to honor the memory of his son, Jeremy Demian Marx. The endowment provides funding for an annual award for an outstanding undergraduate paper in cultural anthropology.
Jeremy Demian Marx was a UC Santa Cruz anthropology major who, tragically, died in 1992 in an automobile accident just before he was to graduate from UC Santa Cruz. He was 21 years old at the time. He was posthumously awarded honors in the major, Porter College honors, and Phi Beta Kappa.
Jeremy was on his way to deliver his senior thesis, which reflected his personal experiences of participating in a men's initiation workshop in Berkeley and of getting a symbolic tattoo on his twenty-first birthday, for which he also created his own initiation ceremony. Jeremy's thesis essay describes the rituals involved in the experiences and his thoughts and feelings about preparing for what he expected would be the next stage of his life. It addresses "initiation into manhood in at least three senses: gender, maturation, and personal exploration," questions about the Self's role in initiation rites, and the contrasting and shared forms of initiation among cultures.
The Jeremy Demian Marx Award for Cultural Anthropology is based on academic merit alone and is restricted to undergraduates majoring in anthropology. Preference is given to seniors and to applicants who have written papers addressing the topics of rituals, festivals and ludic events, rites of passage, art and symbolism, and life transitions, reflecting the interests of Jeremy Demian Marx. Applicants are asked to read Jeremy's thesis. For the full thesis text, click here.
For more information about this scholarship, please contact the undergraduate advisor in the Anthropology Department by telephone (831) 459-3320, email or visit the department's Undergraduate Awards website.
Save
Save
See
Also