The Ryan Heumann Anthropology Undergraduate Endowed Scholarship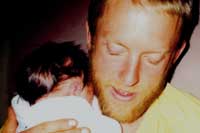 Ryan Heumann, a UCSC anthropology major, with daughter Ella Rose.
"Ryan's Travel Money"
Ryan Heumann was a UC Santa Cruz anthropology major when he died at age 26 in a climbing accident in Big Sur on May 2, 2002. He had just become a father with the birth of daughter Ella Rose to his partner, Shannon Delaney. He was awarded a posthumous UC Santa Cruz degree in June 2002.
Ryan was born in Hawaii, grew up at Sorrento Beach in Santa Monica, California, spent time in all the western states, drove from coast to coast, made two trips to Costa Rica, circumnavigated Australia with a backpack for six months, and made two trips to Machu Picchu in Peru. These travels awakened his profound interest in ancient cultures and the environment. The Mayan sun calendar ultimately became the topic of his senior thesis, under the direction of Professor Triloki Pandey.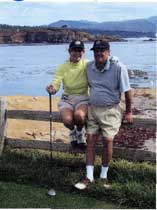 Parents of Ryan, Carol and Bill Traver.
The tragic loss of Ryan Heumann, and his many contributions to his college and the campus, were recognized at College Nine's graduation ceremony in 2002. Ryan's mother, Carol Traver, attended the ceremony with some of her son's friends and accepted the degree on his behalf.
Ryan was interested in environmental issues and had spearheaded plans for an all-day spring-quarter festival on campus to be called "The ONE," which stood for "Offering New Expressions." With a focus on urban sustainability, including alternative energy systems, the festival was to include music and dance performances and participation by both campus and community organizations.
Ryan's friends and family were deeply affected by his vision of sustainable community. Some of his friends and colleagues created a website, the Heumann Energy Project, to communicate about appropriate technology at UCSC.
Ryan was a fervent believer in collective possibility and demonstrated his commitment to the environment by example. With the help of friends and his partner Shannon, he started a subsistence farm of his own, nestled in the mountains overlooking Corralitos, in the south of Santa Cruz County. A simple and beautiful place, the Freedom Farm, as he liked to call it, boasts a genuine tipi overlooking the Monterey Bay, gardens of all types, solar power, cob housing, dirt boarding, and more. Anyone who has had the great pleasure of visiting this magical place knows the time, love, and dedication that went into every seed planted, every piece of art hung, and every space cleared for a view of a sunset or a bonfire.
The Ryan Heumann Anthropology Undergraduate Endowed Scholarship Fund is colloquially referred to as "Ryan's Travel Money" in consideration of Ryan's passion for knowledge and his love of cultural anthropology. This endowment was made possible through a major gift by Ryan's parents, Bill and Carol Traver, to the Anthropology Undergraduate Endowed Scholarship Fund in 2003. In 2004 that fund was re-named in Ryan Heumann's memory.
The endowment supports one or more awards to full-time undergraduate students majoring in anthropology to assist with the costs of faculty-sponsored independent research, research-related travel, or travel to professional academic conferences. The selection of the candidate for the award is made by the Anthropology Department. The award is made each fall and spring.
For more information about this scholarship, please contact the undergraduate advisor in the Anthropology Department by phone (831) 459-3320, email or visit the department's Undergraduate Award website.
See
Also