Valerie Fuette Scholarship in Politics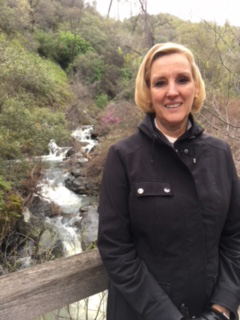 Starting in the 2018-2019 academic year, UC Santa Cruz's Politics Department has awarded an annual scholarship to a student in need of financial help who has significantly improved their academic performance.

Chair Dean Mathiowetz said the department is excited to be able to provide assistance to deserving students. It is the department's first endowed scholarship.

"Many of our students struggle with finances from time to time," he noted. The number of students challenged to cover their educational expenses has been growing, Mathiowetz said. Compared with seven years ago, twice as many students rely on books he reserves in the library.
Valerie Fuette, the donor behind the Valerie Fuette Scholarship in Politics, cited the growth in cost of higher education as part her motivation. She hopes the scholarship will alleviate some of the debt students incur. Fuette (Cowell '85, politics) structured the permanently endowed award around her own experience as an undergraduate.

When she was growing up, Fuette's family immersed her in political conversations. Her parents were more conservative than she was, and to Fuette that meant discussions were interesting and relevant.

When she arrived at UC Santa Cruz, she majored in politics, imagining a career in foreign service. It being the early 1980s, she wanted to work in relations with the Soviet Union.

In her first year at UC Santa Cruz, however, she said she neglected to take her studies seriously. It is because of the lessons she learned turning her focus back to her classes that the scholarship will select students who have shown significant improvement in their work.

"I had to pull my act together, and I did. I turned my evaluations around," Fuette said. "I admire that in students."

She also appreciated that in her narrative evaluations, her professors had taken note of her improvement.

"Teachers are pretty critical in motivating us to do better," she said.

She would go on to earn a graduate degree from American University and turned her political skills toward local government in the Santa Barbara area.
Save
Save
See
Also