Andy Rae
Name: Andy Rae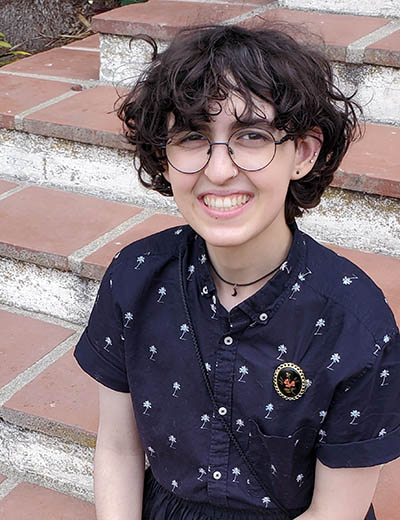 College: Oakes
Department: Community Studies/ Education
What Award/ Scholarship did you receive? Gabriel Zimmerman Memorial Scholarship
What year do you expect to graduate? 2023
Where do you call home? I was born and raised in Santa Cruz, California
With all of the choices for college, what made UC Santa Cruz stand out? I came to UCSC because of the amazing scenery that surrounds it. I love the fact that I can visit the ocean and 20 minutes later be in the depths of the forest. The campus is gorgeous and I'm so grateful I get the opportunity to study amidst the redwood trees which make me feel at peace.
What is your field of focus? My focus is the intersection of the criminal justice system and the education system and
implementation of restorative justice in education.
What do you hope to do once you graduate from UC Santa Cruz? My goal is to work in student services, particularly in the field of student conduct in higher education. I want to promote restorative justice practices in campus response to conduct issues. Being in college is all about learning and figuring ourselves out. When students do something wrong, I want them to have a chance to learn, grow, and evolve from their mistakes.
What is one memorable moment that stands out for you as a student here? I took a class called Muppet Magic that was all about puppets. To be honest, I took it because I thought it would be funny. Throughout the class, however, I came to really appreciate the art of puppetry and it was a lot more complex than I had ever imagined. I got to make my own puppets and see all the creative puppets my classmates made. I will never forget it and now every time I see a puppet I feel we have some kind of special connection.
What is your one piece of advice for incoming students about life at UC Santa Cruz? Be true to yourself and don't try to be anyone else. Seek ideas outside of just what is presented in the classroom and don't be afraid to come up with your own ideas. Try to understand others' perspectives even if you disagree with them. Celebrate the gray areas and the complexity of problems without simple solutions. It's important to stick up for what you believe in but always leave yourself room to change your mind.
How will this scholarship impact your academic life /research? Receiving this award is my deepest honor. It means a lot to have my work recognized and supported by the community of changemakers behind this scholarship. This support will be invaluable on my path towards working in student services and making a difference in students' lives.
See
Also