Tamar Sasson
Name: Tamar Sasson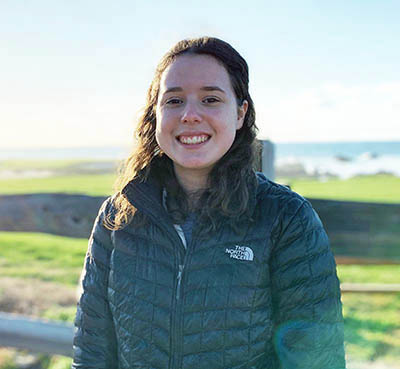 College: College Ten
Department: Economics
What Award/ Scholarship did you receive? Walsh Family Scholarship
What year do you expect to graduate? 2023
Where do you call home? I grew up in San Jose, CA but I consider Santa Cruz to also be my home!
With all of the choices for college, what made UC Santa Cruz stand out? I really enjoy that UC Santa Cruz offers the experiences and resources of a large university but has a small university feel to it due to the college system. I like that there is an immediate sense of community. I also really appreciate the supportive professors and faculty. The campus itself is also extremely unique. Walking around in the forest and being able to see the ocean while you're going from one class to another is so soothing, and not something I saw in other college campuses!
What is your field of focus? I am interested in studying labor economics, public policy, and econometrics.
What do you hope to do once you graduate from UC Santa Cruz? I hope to pursue economic research by going into a PhD program or working as a research assistant for a professor/think tank.
What is one memorable moment that stands out for you as a student here? In the very last lecture of one of my classes, my professor spent the entire time talking about different ways to get involved in community service that aim to fix some of the global issues he had taught the class about. He ended the lecture by saying he believes we can all make a difference in helping the world become a better place. It was really inspiring and motivated me to continue taking classes the discuss global issues and public policy.

What is your one piece of advice for incoming students about life at UC Santa Cruz? My piece of advice would be to not be afraid to reach out for help. Everyone at UC Santa Cruz is really nice and is always willing to help out!

How will this scholarship impact your academic life /research? This scholarship will help me focus on pursuing research in my undergraduate and future career. Receiving this scholarship motivated me to continue pursuing my goal of a career in research. It will also assist me in paying for school related items. I am so thankful to the Walsh family and social sciences department for granting me this scholarship!
See
Also