Elsie Vizcarra
Name: Elsie Vizcarra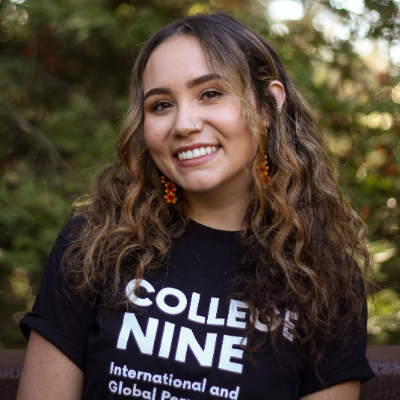 College: College Nine
Department: Education
What Award/ Scholarship did you receive? I received the 2023 Walsh family scholarship.
What year do you expect to graduate? Spring 2025
Where do you call home? Corona, CA!
With all of the choices for college, what made UC Santa Cruz stand out? I chose UCSC because I fell in love with the campus. I enjoy being surrounded by the redwood forest and having the freedom to go on hikes whenever I like! UCSC also offered the best financial aid package, which has helped me continue my higher education journey.
What is your field of focus? I am double majoring in Education and Latin American/Latino Studies.
What do you hope to do once you graduate from UC Santa Cruz? After graduating from UC Santa Cruz, my primary goal is to pursue a Ph.D. in Latino Studies to continue my educational journey. I have a deep passion for research and aspire to work closely with the undocumented immigrant community in the years to come. By furthering my education, I aim to make a meaningful contribution to my community and advocate for their rights and well-being.
What is one memorable moment that stands out for you as a student here? A memorable moment for me was joining my first campus protest during my freshman year. It was a powerful experience that made me feel empowered and connected with a community of like-minded individuals. As we marched around campus, advocating for a cause I deeply believed in, I witnessed the unity and collective strength of students coming together. It ignited my passion for community activism and organizing. That moment of participating in civil disobedience became the catalyst for my commitment to fighting for the betterment of my community.
What is your one piece of advice for incoming students about life at UC Santa Cruz? One valuable piece of advice I would offer is to actively seek out a community at UCSC where you feel comfortable and supported. Whether it's joining a cultural club or participating in a sport, having a sense of community is crucial for a student's success. Personally, I faced challenges in connecting with others, but I made the effort to find a club that embraced my identity and celebrated my Mexican culture. I became a part of Chicanx and Latie Educandose (ChALE), a student-led peer retention program. Being involved with ChALE not only helped me stay motivated at UCSC, but it also provided a space where my identity was validated and embraced.
How will this scholarship impact your academic life /research? I have an exciting opportunity to intern in Argentina over the summer, and I am grateful for the scholarship that will help support this experience in a different country. I am particularly thrilled to utilize my Spanish skills while in Argentina and to advocate for study-abroad opportunities among low-income students on campus. It is my aim to inspire and encourage others to explore international experiences, regardless of their financial circumstances.
See
Also