Jaden Huerta
Name: Jaden Huerta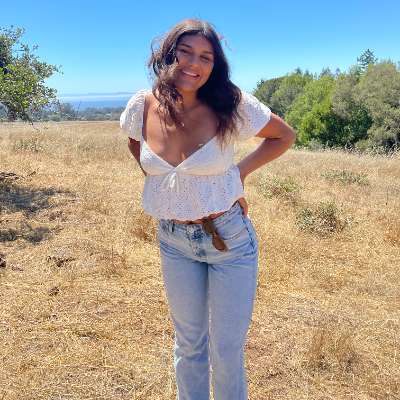 College: Stevenson
Department: Sociology, Latin American and Latino Studies
What Award/ Scholarship did you receive? Benjamin Quaye Memorial Endowment for Social Justice award
What year do you expect to graduate? Spring 2024
Where do you call home? Santa Cruz, Ca
With all of the choices for college, what made UC Santa Cruz stand out? When I visited UCSC my senior year, I immediately fell in love with the location. The redwoods and the beach create such a peaceful energy and I felt right at home. I also connected with UCSC's strong value for social justice, and I saw opportunities to contribute to equitable outcomes within the Santa Cruz community.
What is your field of focus? I am a double major in Sociology and Latin American and Latino Studies. I also just began pursuing a minor in Education.
What do you hope to do once you graduate from UC Santa Cruz? After I graduate from UCSC, I hope to pursue a Masters's in Social Work. Once I receive my MSW, I hope to become a social worker and work specifically within child welfare, contributing to protective and prevention services for vulnerable children.
What is one memorable moment that stands out for you as a student here? Although I don't have one specific moment that stands out, I have had many valuable moments as a result of my time working at UCSC's Early Education Services. As a teacher's Assistant, I have worked within the school-age classroom, as well as the toddler's classroom, creating an engaging and safe learning environment. My experience at EES has been a highlight of my time at UCSC because of the daily successes I have working with the students. Even simple successes, like
discovering a new book, or comforting a child during nap time, have been instrumental in growing my passion for child advocacy.
What is your one piece of advice for incoming students about life at UC Santa Cruz? Explore the support resources available at UCSC. We're all faced with different circumstances in receiving an education, and there are many helpful on-campus support services dedicated to helping you succeed. I would not have made it this far at UCSC without many of UCSC's programs. Don't be afraid to ask for help!
How will this scholarship impact your academic life /research? This scholarship will be extremely instrumental in helping me pursue volunteer opportunities within Santa Cruz County. I have been limited financially in doing so in the past, but this will give me the the opportunity to expand in serving my community and support opportunities and resources for marginalized populations.
See
Also