Maria Luisa Carmona
Name: Maria Luisa Carmona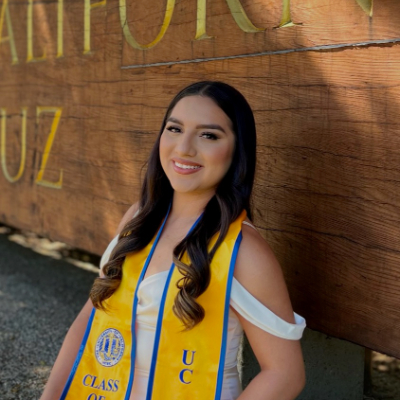 College: Merrill College
Department: Legal Studies Program
What Award/ Scholarship did you receive? I received the 2023 Benjamin Quaye Award for Social Justice.
What year do you expect to graduate? Spring 2023.
Where do you call home? I call home where my family lives and where I was born and raised, the Coachella Valley in Southern California.
With all of the choices for college, what made UC Santa Cruz stand out? UC Santa Cruz stood out to me because it was a very different and unique environment that I was excited to be a part of. UCSC also had a renowned Latin American and Latino Studies program that I was very interested in.
What is your field of focus? Politics, Latin American and Latino Studies, Legal Studies, Migration, Social justice
What do you hope to do once you graduate from UC Santa Cruz? Once I graduate, I hope to work in legal aid providing legal services to underserved communities, obtain a paralegal certificate, then attend law school to become an immigration attorney.
What is one memorable moment that stands out for you as a student here? A memorable moment that stands out for me as a student here was the opportunity to study abroad in Europe with the University of California Education Abroad Program. This shaped my personal, academic, and professional goals tremendously.
What is your one piece of advice for incoming students about life at UC Santa Cruz? A piece of advice is to try your best to get involved in the community organizations that you find interesting and do not be afraid to try new things at UCSC!
How will this scholarship impact your academic life /research? This scholarship will give me the opportunity to continue working in legal aid services and obtain a paralegal certificate as a recent graduate.
See
Also