In Their Words: Jaleel Plummer
Name
: Jaleel Plummer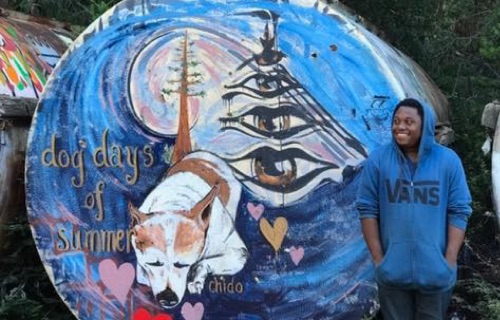 Department
: Anthropology
What Scholarship or Award did you receive?
Ryan Heumann Award
What year are you (1st year, 3rd year)?
4th year (2nd year transfer student)
College
: Merrill College
Where do you call home?
I was born and raised in East Palo Alto, California. I have never imagined leaving California, but grad school can easily make me change my mind.
What is your field of focus?
My fields of focus are medical anthropology, anthropology of biomedicine, and anthropology of experience. With all these interests in mind, graduate school is definitely a must.
With all of the choices for college, what made UC Santa Cruz stand out?
I chose to attend UC Santa Cruz because, out of all my choices, I was immediately drawn to it. I originally hoped to attend UC Berkeley, but the academic and financial support provided by Santa Cruz won me over. I tend to go with intuition on many things, so once I decided to come to Santa Cruz, I knew that I was not going to regret it. I am proud to say that coming to Santa Cruz was one of the best decisions I have ever made. Being in Santa Cruz has influenced me to maintain my academic integrity and develop long lasting relationships with my professors, advisors, and peers.
What do you hope to do once you graduate from UC Santa Cruz?
Once I graduate from UC Santa Cruz, I hope to attend graduate school and receive my doctorate degree in medical anthropology. I then hope to teach at a university and conduct research on neuroculture, the microbiome, and global mental health. Medical anthropology is in the midst of understanding how changes in society, technological innovation, and biomedical research redefine human experience and the human body. With this in mind, I hope to gather a better understanding on how neurological diseases transform the experiences and bodies of individuals and their families. I may also address how brain-centered notions of personhood are linked to neurological disease and how those notions impact non-brain-centered communities.
What is one memorable moment that stands out for you as a student here?
One moment that resonates the most happened the day after the current president was elected. On that day the lecture in my medical anthropology class focused on what it means to be human. My instructor, being emotionally distraught by the results of the election, made it clear that one of the key aspects of being human is compassion. She then had us form a circle with everyone grabbing each other's hands and granted anyone the opportunity to express their concerns. She reminded us that we're all human beings, what binds us together is our compassion for one another, and that we were more than just her students but her family. She then ended the course letting us know that if anyone needed assistance with concerns about their immigration status, sexuality, sense of self, or mental health, that she will be in their corner and assist them in any way possible. It is definitely one lecture that I will never forget. For an instructor to remind us all that she too is a human being with feelings and concerns is both brave and definitely encourages me to walk through life with compassion.
What does this scholarship/award mean to you?
The Ryan Huemman Award will allow me to conduct further research by allowing me more time to talk to more people about their experiences being resilient and enduring the everday stress that comes with life, biased thinking, discrimination, and political rhetoric. I then hope to attend the UC San Diego Global Health Consortium and present my research to leading figures in global mental health. I hope to pay homage to Ryan Huemann's memory and maintain the same love and dedication he had for anthropology.
Research:
My senior thesis research focuses on the resilience experience or one's ability to endure stressful circumstances that are induced by traumatic events. These traumatic events may be associated with, but are not limited to, grief, economic status, ethnicity, and gender. Resilience is thus one's ability to try to overcome their stress regardless of the avenues they take to reduce that stress. I hope to interview more local Black Americans and Latinxs and discuss how they experience both stress and resilience while residing in Santa Cruz, a space gradually becoming gentrified. Along with interviews, I then determine how and why resilience is gaining such popularity, especially in neuroscience, and its possible relation to American notions of autonomy and neoliberalism. I do believe that resilience studies in neuroscience can potentially become politicized and force marginalized communities to solely depend on their resilience for the sake of overcoming social injustices. I hope my informants will provide me a holistic understanding on how they experience stress and resilience, and how social injustices are what need to be addressed head on.
See
Also