In Their Words: Alejandra Aviah Zeiger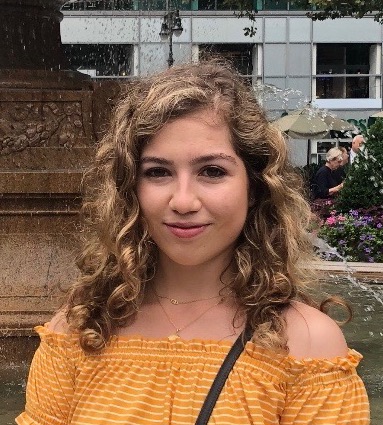 Name: Alejandra Aviah Zeiger
College: College Nine
Department: Psychology
What Award/Scholarship did you receive? Chancellor's Award and Deans' Undergraduate Award in the Division of Social Sciences
What year do you expect to graduate? June of 2019
Where do you call home? Bay Area, California and Quito, Ecuador
With all of the choices for college, what made UC Santa Cruz stand out? I was drawn to UC Santa Cruz for a number of reasons, the first being its breadth of research opportunities, specifically in the social sciences discipline. The second reason surrounds the separation of the campus into smaller colleges (though there of course still is the feel of a large university). The theme of College 9, international and global perspectives stood out to me, as did the work of some of the professors affiliated with the college. The fact that UCSC is entirely surrounded by nature appealed to me as well. Being able to walk through the trees to class is truly unique, not to mention a very healthy way to clear your mind and de-stress.
What is your field of focus? I study psychology and anthropology, and through my senior thesis research as well as through my work with the Blum Center, I have focused on public health and environmental and social justice.
What do you hope to do once you graduate from UC Santa Cruz? I hope to continue working on both local and global projects of social justice that touch the lives of those that I am collaborating with, even if the changes made are small-scale. I
also hope to return to the Ecuadorian Amazon, which is where I conducted the research for my thesis, and continue working with the Waorani people (who are facing environmental degradation due to oil exploitation) to protect their territory and better the well-being of their environment.
What is one memorable moment that stands out for you as a student here? The support of professors and graduate students in my academic endeavors has truly been life changing. Without their encouragement and willingness to talk with me about my interests and goals, I do not think that I would have had the confidence to dabble in so many different fields and projects. My time working as a writing tutor and mentor has likewise been memorable, and has provided me with the opportunity to share what I have learned at UCSC in terms of both academics and navigating the college experience.
What is your one piece of advice for incoming students about life at UC Santa Cruz? Take advantage of all of the resources the university has to offer. Get to know your professors and get involved in campus affairs, whether that be through clubs or research. Spending time in nature is really important too! There are so many beautiful beaches and state parks nearby, not to mention all of the hiking trails on campus.
How will this scholarship impact your academic life/research? This scholarship not only affirms that hard work and passion pays off, but I think that it will help me with future opportunities. It is motivating and makes me excited to continue on with my research.
See
Also