Angie Valencia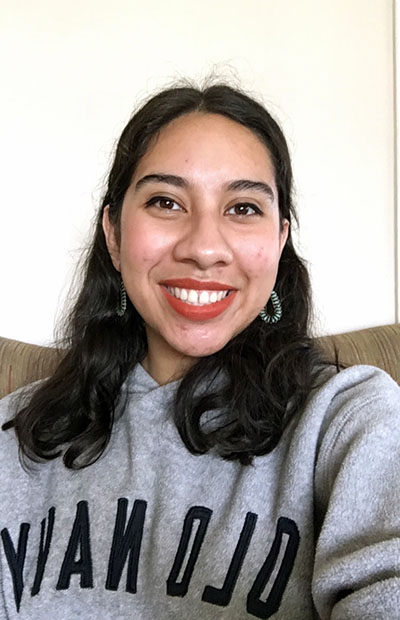 Name:  Angie Valencia
Department:  Politics
What Award/ Scholarship did you receive?  2020 Weiss Family Scholarship
What year do you expect to graduate?  2021
Where do you call home?  Los Angeles, California
With all of the choices for college, what made UC Santa Cruz stand out?  I first visited UC Santa Cruz in my junior year of high school as part of a Northern California college road trip through my GearUp program. I had never been to Northern California before, and I was excited to experience a new part of California. When we arrived at UCSC, I loved the beautiful redwoods surrounding the campus, making the university feel hidden away in nature. The campus immediately felt peaceful and welcoming, and the students were also just as friendly and welcoming.  
What is your field of focus?  Politics and International Human Rights
What do you hope to do once you graduate from UC Santa Cruz?  I hope to continue working in the new field of Open Source Investigation (OSI) and help encourage students to learn about OSI and how to create change. I also aspire to go to graduate school for a master's in school counseling to become a high school college counselor. I want to work in my community to help encourage, support and be a champion for students. I do not want students to give up on themselves and I want them to keep striving forward no matter the barriers they face.
What is one memorable moment that stands out for you as a student here?  As a sentimentalist, I have far too many to choose just one moment. But one instance that stands out for me was getting accepted in the Research Center for the Americas' Human Rights Lab. It felt surreal, and I was thrilled to have the opportunity to work alongside other students passionate about human rights from all over campus.
What is your one piece of advice for incoming students about life at UC Santa Cruz?  My advice to incoming students is do not be afraid to reach out and ask for help, whether it be a professor, TA, or friends. You do not have to take everything on by yourself. Asking for help can open different doors and be a sign of strength. It leads to forming new connections and networking. Also, do not be afraid to fail; you are human, and life never happens in a straight line. Just know that if you fail, it can be an opportunity to continue learning and growing both academically and personally.
How will this scholarship impact your academic life /research?   This scholarship is a blessing for my family and me. It will help to alleviate some financial stress to pay for my education. I am fortunate to receive this scholarship as it serves to motivate me further to finish my last year at UCSC strong as well as give me hope for my academic future.
---
Comments from Angie Valencia's faculty mentor:
Angie Valencia is a College 10 student and Politics major and is an Undergraduate Team Manager (UTM) for the Human Rights Investigations Lab housed at the Research Center for the Americas (RCA). She has led the RCA's research lab in its inaugural year and plans to do so again next year. According to the graduate assistant at RCA, who mentors Angie, "The passion of her political convictions, that consistently illuminate a clear path towards social justice, is uniquely paired with her ability to be attentive to, shaped by, and show respect for other perspectives that differ from her own. She is a gifted leader, able to navigate complex issues and abstract concepts, all the while translating them to fellow students in a manner that allows for mutually beneficial collaborations. In short, she exhibits grace, profundity and a focused motivation in equal measure." Her faculty mentor similarly lauds Angie's talents and motivation, stating "In Spring 2019, Angie stood out even in the very large LALS 5 course (Introduction to Human Rights and Social Justice), always asking questions and making thoughtful commentary. Angie is tenacious, insightful, and hard working.  This research experience has introduced Angie to an entire new career possibility in digital verification."
See
Also