Dora Khuu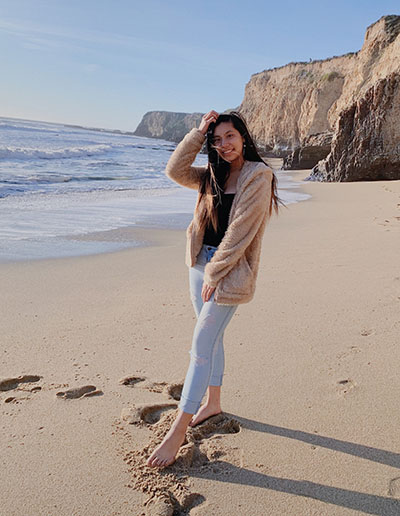 Name:  Dora Khuu
Department:  Sociology
What Award/ Scholarship did you receive?  I received the 2020 Walsh Family Scholarship.
What year do you expect to graduate?  I am working extremely hard to graduate a year early, so I expect to graduate as soon as Spring 2021.
Where do you call home?  I am from San Leandro, California, a small city in the Bay Area.
With all of the choices for college, what made UC Santa Cruz stand out?  I chose UC Santa Cruz because of its focus on social justice and the beautiful environment. I really love the location, as it is surrounded by both the beach, and the trees.
What is your field of focus?  I am a Sociology major with a concentration in Global Information and Social Enterprise Studies. I aspire to use technology and digital media to address social problems and to spark change within the community.
What do you hope to do once you graduate from UC Santa Cruz?  Once I graduate from UC Santa Cruz, I would love to travel around the world and document my journeys through vlogs or blogs. I hope to later settle down and find a job that works towards addressing societal concerns, and then possibly go to graduate school to further my studies.
What is one memorable moment that stands out for you as a student here?  A memorable moment for me as a student at UCSC would be moving into my house in Santa Cruz. During my Sophomore year, I moved in with a bunch of friends, and we really enjoy our time together. Together, we cook, watch movies, study, do homework, etc. I think building connections and creating memories with the people around you is extremely important to college life, so I treasure each and every memory I have with the people I meet in Santa Cruz.
What is your one piece of advice for incoming students about life at UC Santa Cruz?  A piece of advice for incoming students about life at UC Santa Cruz would be to not let the little things get in the way of your happiness. I learned not to be discouraged when facing drawbacks because as time goes on, things will get better. And so, it's not worth putting the pressure on and stressing over the small things when there is so much more ahead. Of course, there will be challenges that you will face; whether it be academics, social life, etc. but you shouldn't lose yourself to these things because there is so much more to life than what's on the surface.
How will this scholarship impact your academic life /research?  This scholarship will impact my academic life as it will allow me to better focus on my studies. As my parents have provided me with everything I needed for college, I can now relieve some of our financial burdens. The scholarship will also motivate me to work harder and to achieve my dreams.
See
Also