Erin Blevins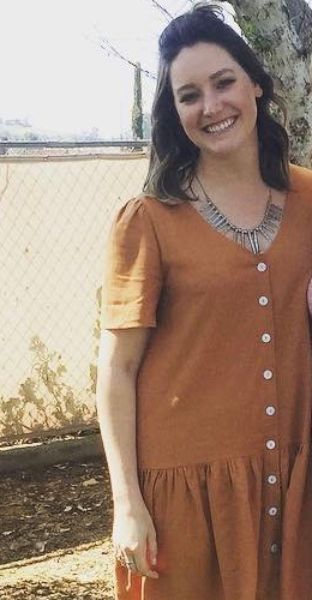 Name:  Erin Blevins
College: Social Sciences
Department: Education 
What Award/ Scholarship did you receive? I received the Richard and Cindy Morley Scholarship.
What year do you expect to graduate? I am graduating with a Master's/Single Subject Teaching Credential this June 2020.
Where do you call home?  I currently live in Scotts Valley, California.
With all of the choices for college, what made UC Santa Cruz stand out? The specific Master's and Teaching Credential program was very intriguing to me as a prospective graduate student. I valued the hands-on student teaching experience throughout the entire program and the small, tight knit cohorts within the program were something I saw as very valuable. Throughout my substitute teaching prior to applying to the program, I had heard this specific program spoken of very highly and well recommended! The program centers its focus on social justice and equity within the education field and I was excited at the opportunity to learn from the well-knowledgeable and reputable professors, my students teaching experience, and the knowledge of my fellow members within the cohort.
What is your field of focus?  My field of focus is in Education. My specific area of focus is in Single Subject English Language Arts with a desire to teach middle school ELA.
What do you hope to do once you graduate from UC Santa Cruz?  I hope to be hired within Santa Cruz City Schools to teach middle school English Language Arts.
What is one memorable moment that stands out for you as a student here?  A memorable experience is truthfully, my first day on campus during the 2019 summer when the Master's/Credential program began. Besides the first day of school excitement, I knew that this was the career path I wanted to pursue and was excited to be stepping into my future career path and knowing that everyone else in the class was there for the same reasons and passions as I had.
What is your one piece of advice for incoming students about life at UC Santa Cruz?  While I didn't live on campus or spend as much time there as other students, everytime I drove into campus, I told myself to never take advantage of the beautiful place I was able to earn a degree from. Take in the wildlife, breathe the ocean air, look out at the ocean, be in awe of the trees. I truly love the campus of UCSC and my advice would be to never take for granted the beautiful place you get to go to school!

How will this scholarship impact your academic life /research?  This scholarship is so truly appreciated! Going into my last quarter this summer of graduate school, having that scholarship comes at a great time. Not only is it a financial aid but the recognition and support of those who nominated me for this scholarship. Being recognized for my work during my 2nd teaching placement is truly an honor and as simple as it may sound, it reminds me that my hard work is paying off. I did this with the support that I had from my professors and advisors in the program as well as my fellow student teachers and my cooperating teacher in my placement.

See
Also