Josue Perez-Hernandez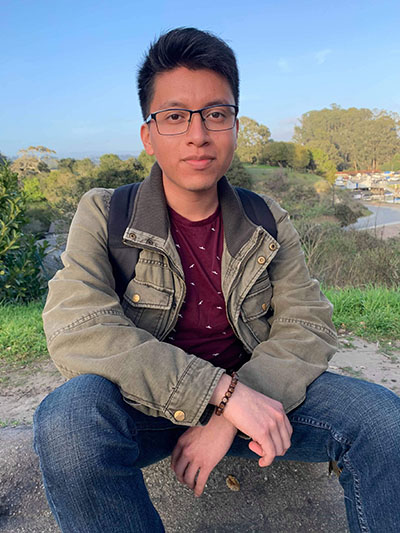 Name:  Josue Perez-Hernandez
Department:  Sociology
What Award/ Scholarship did you receive?  Walsh Family Scholarship
What year do you expect to graduate? 2020
Where do you call home? Upland, California
With all of the choices for college, what made UC Santa Cruz stand out?  I wanted to go to a school where I could be involved in research. I knew I wanted to do this even though I didn't have an idea of what my focus would be. UCSC is also a stunning campus.
What is your field of focus?  Sociology, Human Rights. I have been interested in the experiences that I have seen many university students share and in the ways they react to these experiences. Most recently I have been interested in the different ways there are to defend and uphold human rights.
What do you hope to do once you graduate from UC Santa Cruz?  I hope to continue in school and perhaps one day start doing my own research.
What is one memorable moment that stands out for you as a student here?  As part of a research team, I interviewed Santa Cruz County employees and it was sobering to hear their life experiences when it came to the local  housing crisis. I could leave Santa Cruz when I finished school but the issues for these people were issues that they would have to live with. I recognized the importance in being involved wherever you can and helping in whatever way you can. Santa Cruz may be temporary for many of us but we should be invested in it for as long as we're here.
What is your one piece of advice for incoming students about life at UC Santa Cruz?  Make sure the path you're on is your own. Don't try to copy or measure yourself to anyone else because they've had a different experience to get to where they are and will probably want different things. Focus on making your own goals a reality.
How will this scholarship impact your academic life /research?  I'm happy that the work I've been involved in is considered to merit some sort of recognition. It shows that there is significance in doing research that benefits others and I am encouraged to continue doing this work wherever I end up after my time here at the university.
See
Also