Parker Strohmeyer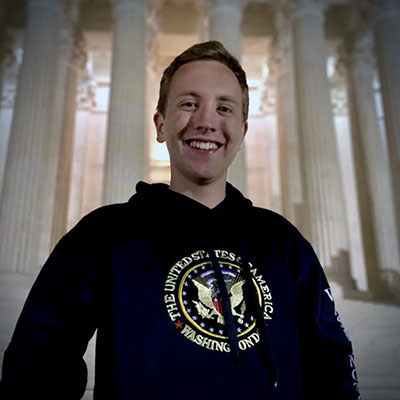 Name:  Parker Strohmeyer
Department:  Politics & Legal Studies
What Award/ Scholarship did you receive?  2020 Deans' Undergraduate Award
What year do you expect to graduate?  2020
Where do you call home?  Sacramento, CA
With all of the choices for college, what made UC Santa Cruz stand out?  UC Santa Cruz stood out as a beautiful campus that offered many opportunities to better myself as a student and as a person. As a public school that offers many different support systems for students, I felt like UC Santa Cruz would give me a good college experience while preparing me for a career.
What is your field of focus?  Politics, concentration in Comparative Politics (B.A.) and Legal Studies (B.A).
What do you hope to do once you graduate from UC Santa Cruz?  I would like to work full time for a few years in a government-related field. After that, I plan to attend law school in Washington D.C., which is where I would like to live long term.
What is one memorable moment that stands out for you as a student here?  Well I'll never forget the experience I had attending Hill Day in Washington D.C., my junior year. It was my first time in the city, and I loved being able to experience the nation's capital and advocate for important issues relating to higher education.
What is your one piece of advice for incoming students about life at UC Santa Cruz?  My advice is to start early. Every year, every class, every experience you have at UCSC counts. You only get a real shot at this once, and the more you use college to gain experience and learn as much as possible, the more prepared you will be for life after college. Talk to professors, read articles, listen to podcasts, get an internship or job, and never let anyone hold you back.
How will this scholarship impact your academic life /research?  The $200 award was less important for me. I was happy to see my research nominated and win this award, as it was a very fulfilling feeling after the many hours I put into the project.
---
Comments from Parker Strohmeyer's faculty mentor:
Parker Strohmeyer received a Deans' Award for Analyzing the Effects of Federal Aid on Partisan Representation in the American States. According to his faculty mentor, "Parker is a conscientious, determined, and hard-working person. It was a pleasure to supervise his original research paper during the Fall 2019 quarter. The paper is a great example of top-notch, independent undergraduate research. Undergraduate politics majors at UCSC are required to complete one 190-level course in order to graduate. The classes are kept small (20 students) to facilitate an authentic seminar experience and students must complete a major original research and writing assignment during the 10-week quarter. Parker excelled in the seminar environment – regularly offering sophisticated insights to our discussion of the scholarly materials, thoughtfully reviewing his classmate's work, and developing a top-notch research paper about the relationship between federal aid and partisanship in the states. While he was working on the paper, we had several lively debates about the broader importance of the subject and its connection to issues of partisan polarization, federalism, and equality. He approached his research in a very sophisticated manner, scaling back the scope as data limitations presented themselves, but never becoming disheartened. I was especially impressed that he pushed through the challenges of learning how to write a systematic literature review – a daunting task to even the most seasoned scholar – and also eagerly pursued quantitative analysis even though it was not a requirement in the class. In doing so, Parker constructed a careful, detailed study, despite not finding exactly what he thought he would (a direct link between his primary variables of interest). Given his commitment to constructing a thorough project, and driven by his curiosity about the subject matter, he continued on, exploring alternative theories and creatively connecting what he had learned about American politics in his years of previous coursework. In my mind, this is the primary objective of a capstone experience, and Parker thrived in designing and completing the work. I am confident that Parker will excel at anything he sets his mind to. It was a pleasure to work with him, and to watch him see this paper through completion."
See
Also