Prateek Arora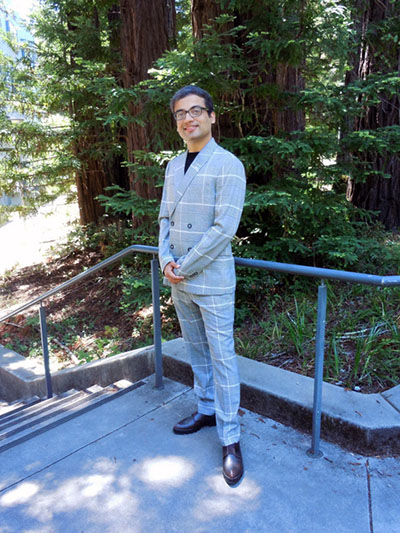 Name:  Prateek Arora
Department: Economics Department
What Award/ Scholarship did you receive?  2019-20 Milam-McGinty-Kaun Award for Excellence in Teaching
What year do you expect to graduate?  2022
Where do you call home?  Santa Cruz
With all of the choices for college, what made UC Santa Cruz stand out?  Great faculty, my advisor (Prof. Carl Walsh) and the location of the campus.
What is your field of focus?  International Macro and Monetary Economics
What do you hope to do once you graduate from UC Santa Cruz?  I hope to be able to contribute to meaningful research as well as continue teaching in a university
What is one memorable moment that stands out for you as a student here?  The exhilarating feeling of being surrounded by great minds is what I cherish the most here.
What is your one piece of advice for incoming students about life at UC Santa Cruz?  One could not have asked for a better campus nestled in the lap of nature. Appreciate its beauty along with the research.
How will this scholarship impact your academic life /research?  This award is an honor for me. It not only gives a boost to my passion in teaching, it also motivates me to do better research and continue my learning process.
---
Comments from the Economics Department:
Prateek Arora was judged the most impressive among the Economics Department's highly-regarded group of dedicated graduate students. In his recommendation letter for this award, Economics department chair Alan Spearot referenced several of Mr. Arora's student evaluations: "Prateek is a TA who is passionate on what he is teaching. During section, he made everyone engage in the steps for the problems that he going over. I felt that his personality also made the class more engaging since he made everyone feel comfortable and excited to learn about macroeconomics; Prateek was such a good TA. His concern for students' learning was genuine. He understood the material very well, and he went above and beyond to make sure that you got the help you needed. He was always willing to stay after class and answer questions, and he was always quick to answer questions over email; Prateek was always prepared for sections and made sure that everyone got their questions answered and understood the material well."  According to Spearot, "While these comments only begin to capture the impact and appreciation Prateek's students hold for him, they do provide a vivid picture of their feelings and gratefulness."
See
Also