Priyanka Kulkarni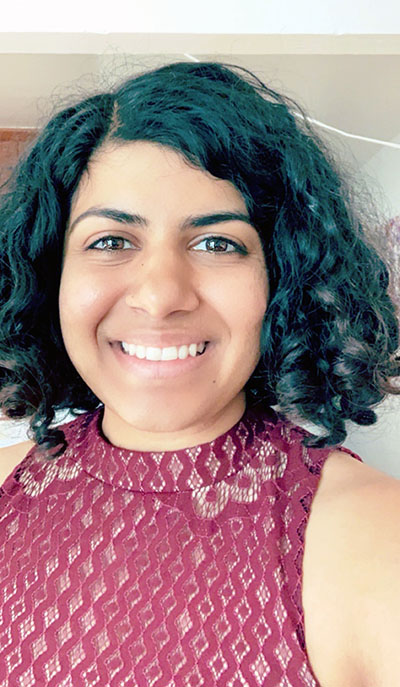 Name:  Priyanka Kulkarni
Department:  Sociology
What Award/ Scholarship did you receive?  Deans' Undergraduate Award, a Chancellor's Award, and the Sociology of Race, Class and Gender Senior Thesis Award.
What year do you expect to graduate?  2020
Where do you call home?  Santa Cruz and the Bay Area
With all of the choices for college, what made UC Santa Cruz stand out?  The beautiful campus and the interesting city.
What is your field of focus?  Sociology with a particular focus on the criminal justice system, the prison system, and healthcare and the social inequities as a result of these systems.
What do you hope to do once you graduate from UC Santa Cruz?  I hope to find a career where I can work to dismantle and change the criminal justice system, prison system, and healthcare system. I will be taking two years to build my experience in these fields and then enter graduate school, with the intention to focus more deeply on these topics.
What is one memorable moment that stands out for you as a student here?  I was walking down the steps of Mchenry library spring quarter of my freshman year, when I saw a flier for the Artistic Rehabilitative Therapeutic (ART) Initiative, an organization where we teach art classes in the Santa Cruz County Jails. Immediately I became interested and began participating my sophomore year. From that experience, I learned what I want to focus on in my career and academics, had an incredible opportunity learning about and working with the local Santa Cruz community, as well as creating connections that led me to writing my thesis, and meeting likeminded people that have similar goals, passions, and values.
What is your one piece of advice for incoming students about life at UC Santa Cruz?  Utilize all the resources UCSC offers. There are lot of academic, mental health, and basic needs resources that you are not told about, find them and use them!
How will this scholarship impact your academic life /research?  I will further my research in sociology, learn more, and improve my writing to voice the necessary changes needed in our society.
---
Comments fromPriyanka Kulkarni's faculty mentor:
Priyanka Kulkarni received both a Deans' Award and a Chancellor's Award for her research on Incarceration and Healthcare in the Santa Cruz County. In the letter of support for her research, her faculty mentor wrote: "Priyanka has demonstrated great perseverance, initiative, as well as excellent collaborative skills. She is not only interested in and motivated to engage topical questions in sociology, medicine, and health disparities, but also puts great work into their assimilation with her own experiences. Her senior thesis project charts the circulation of incarcerated individuals between the Water Street Main Jail and the Blaine Street Women's Medium Facility, and Rountree Men's Medium Facility respectively. Using qualitative methods, she analyzed the unique healthcare challenges presented in each facility, the specific treatment methodologies characteristic of each, and the therapeutic outcomes for incarcerated individuals and their gendered inequalities – linking the history of federal, state, and county health care policy to their subsequent implementation in the prison and jail system. In careful detail, Priyanka situates that history within an ongoing institutional shift toward the privatization of health care services provided to incarcerated individuals. She then connects that history persuasively within both the contemporary social field and the carceral disciplinary setting of Santa Cruz County. She offers a vital narrative that poses urgent questions about how neoliberal capital and mass incarceration together structure the margins of what exactly constitutes "cruel and unusual punishment" in Santa Cruz County and by implication the state and the nation at this moment of the early 21st century. Her thesis reflects the impressive, hard- earned intellectual growth that she has earned by broadening her research expertise in community health. She has proven herself to have the perseverance, initiative, and scholarly maturity."
See
Also