Mary Rossi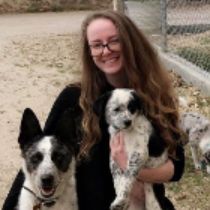 Name:  Mary Rossi
College: Graduate
Department: Education 
What Award/ Scholarship did you receive? Delta Kappa Gamma Education Award
What year do you expect to graduate? 2021
Where do you call home? Big Pine, California
With all of the choices for college, what made UC Santa Cruz stand out?  Our visions of a more just and democratic world for all align.
What is your field of focus? Elementary Education
What do you hope to do once you graduate from UC Santa Cruz? I hope that I'm able to take the skills I've learned to be a fair and effective educator, and to help make a positive impact on my community.
What is one memorable moment that stands out for you as a student here? This has been a year that nobody could have prepared for or anticipated. It would have been impossible without the care and intent my instructors and advisors have put in.
What is your one piece of advice for incoming students about life at UC Santa Cruz? My classmates have been the most valuable resource toward my success. Incoming students should plan to work with their classmates - be a good teammate and learn from others' perspectives.
How will this scholarship impact your academic life /research? This scholarship has impacted my life by helping me move closer to the university and placement school as they opened for hybrid education. I absolutely love working with my students in person after spending the whole school year on Zoom so far - and the students love being back in school!
See
Also