In Their Words: Dominique de Wit
Name: Dominique de Wit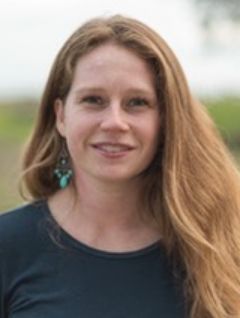 Department: Politics
What Award/ Scholarship did you receive? Hammett Fellowship Award in Environmental Studies
What year are you (1st year, 3rd year)? 5th Year
College: Graduate Student, Social Sciences Division / Politics Department
Where do you call home? Santa Cruz / Singapore
With all of the choices for college, what made UC Santa Cruz stand out? After applying to UCSC, I received a research position under a grant bridging engineering and social science research on individual energy consumption and the integration of decentralized energy technologies in the US and Denmark. I wanted to conduct interdisciplinary research on environmental politics and local governance, and the knowledge and expertise of my advisors and other faculty at UCSC made the university feel like a great fit. The beautiful campus and the location in Santa Cruz also greatly influenced my decision to attend UCSC.
What is your field of focus? I study the politics of energy transitions and the emergence of local climate change solutions in California and Germany.
What does this scholarship/award mean to you? I'm very grateful that this award acknowledges and supports my research on the intersection of ethics and politics of California's energy transition. The award allows me to contribute to both the public and scholary debate on the various trajectories of California's climate change politics, therein raising questions of ethics and justice that need to be considered to create more equitable and sustainable low carbon societies.
What do you hope to do once you graduate from UC Santa Cruz? I hope to keep working on climate politics and social, economic, and environmental justice issues. California set a target to get all electricity from renewable source by 2045, and I hope I can contribute to turning this into reality while simultaneously addressing the needs of our communities and protecting our environment. I hope to work on these issues either through a consulting position working with local governments, energy providers, and communities or through academic research and teaching.
What is one memorable moment that stands out for you as a student here? Teaching a world politics course during the summer of 2018. One of the things I love most at UCSC is the diversity of its student body, and the consequent richness of classroom debates cultivated by a wide variety of perspectives. For this course, I wrote an in-class simulation on the Rohingya refugee crisis, assigning students to represent non-governmental organizations, nation-states, and various regional organizations. Students conducted research, gave presentations, dressed up and acted in character, herein experiencing in mock form decision-making processes at the international level. Throughout the final lecture, students passionately debated patterns of international and local conflict, their role as individuals in (international) politics and society, and their empowerment and responsibility to create change. Watching these students grow and learn throughout this course is one of my most memorable moments at UCSC.
See
Also