Aaron Cruz
Name:  Aaron Cruz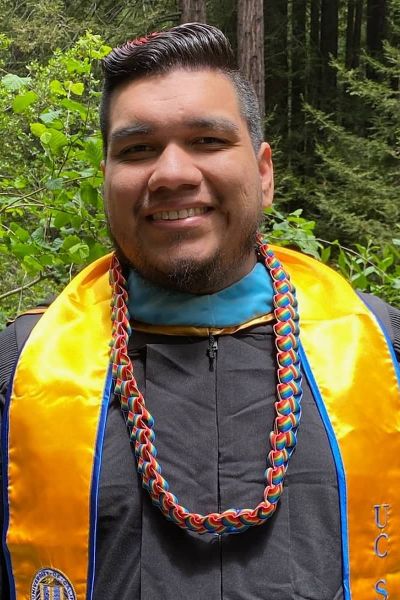 College:  Graduate
Department:  Education
What Award/ Scholarship did you receive?  Kathryn Cheney Merriam Scholarship
What year do you expect to graduate? I am walking this Spring Quarter, however I should be officially done by July 2021
Where do you call home?  I am originally from San Bernardino, California.
With all of the choices for college, what made UC Santa Cruz stand out?  I was fascinated with the Education master's program where I could get both my Master's and teacher credentials at the same time. Plus I was interested how the departments focus on education was on social
justice shrinking the achievement gap between historically disadvantaged students and other privileged students.
What is your field of focus?  I am focusing on Science Education.
What do you hope to do once you graduate from UC Santa Cruz?  I am hoping that I get a job offer working as a High School Biology Teacher. 
What is one memorable moment that stands out for you as a student here?  This year has been a harsh one, since I have not officially met my cohort this academic year. However, I was able to have some socially distanced activities with the ones who were in town, and it made my experience hopeful, that we have all these potential teachers ready to go into the education field once we all graduate.
What is your one piece of advice for incoming students about life at UC Santa Cruz?  You do not need to know what you are doing when you are young. I am currently 30 years old. I got my bachelors in 2014 and left my undergraduate with no idea what to do. I had to really take my time and see if I had interests in my field of students (MCDB). However, I had so many great opportunities with the Non-Profit education field and realized my true passion. I am fortunate that UCSC gave me the opportunity to realize what type of teacher I could eventually be. One who is patient and with a focus on equity, where I want my students to succeed in their studies to graduate from high school. 
How will this scholarship impact your academic life /research?  This scholarship will actually cover my last quarter for my graduate year, completely. Which is much needed as I am also working at the Boys and Girls Club in Downtown Santa Cruz to make sure I continue to pay for my living expenses. So having this scholarship is a great sigh of relief that I would not have to worry about how am I going to pay for my last quarter.
See
Also