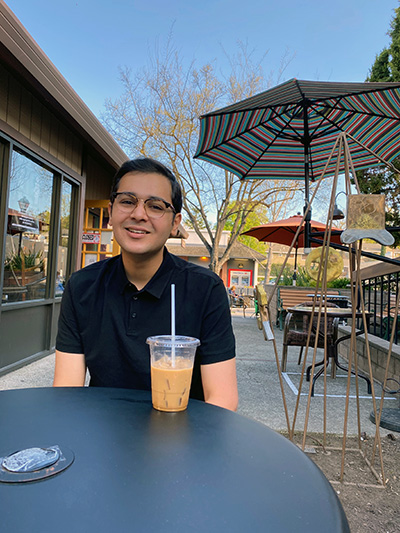 Name: Aryan D'Rozario
College:
Merrill
Department: Social Sciences
What Award/ Scholarship did you receive? Dean's Award
What year do you expect to graduate? Graduated in Fall 2020
Where do you call home? For me, home is San Jose, California and New Delhi, India. I was born and raised in Delhi and moved to San Jose in 2014. I am extremely privileged to have experienced life in two vastly different places, which has definitely taught me many lessons and exposed me to different lifestyles. I still return to Delhi often, and therefore both cities hold a special place in my heart.
With all of the choices for college, what made UC Santa Cruz stand out? UC Santa Cruz was close to family in San Jose. For me, a support system was important, especially as I was someone who found it difficult to move away from home.
What is your field of focus? Politics – I am especially interested in South Asia. While UC Santa Cruz doesn't have many South Asian classes (as yet), I was still able to pursue my interests, especially in my Senior Seminar with Professor Eaton. However, I am thrilled to hear that UC Santa Cruz will soon have a functioning Center on South Asian Studies!
What do you hope to do once you graduate from UC Santa Cruz? I will be attending the University of Oxford in the Fall (October 2021) to pursue a MSc in Modern South Asia, where I hope to study the region and its complexities further.
What is one memorable moment that stands out for you as a student here? Winning a Dean's Award for my research! I was also thrilled to serve as the Undergraduate Representative on the Committee on International Education for two years. International students are a great asset for UC Santa Cruz.
What is your one piece of advice for incoming students about life at UC Santa Cruz? Embrace the many opportunities you will receive – especially the small class sizes. Get to know your professors (they may be great resources in the future) while also enjoying the natural beauty of the campus around you. Four years will go by in a flash.
How will this scholarship impact your academic life /research? I am honored to receive this scholarship, and the money will be used for my next big research thesis at the University of Oxford!
See
Also