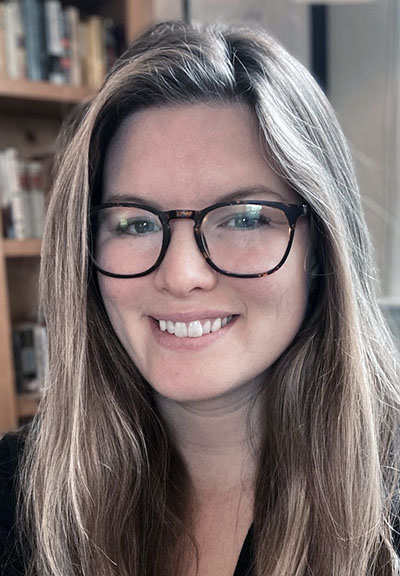 Name:  Ellie Frazier
Department: Politics
What Award did you receive? Milam-McGinty-Kaun Award
What year do you expect to graduate? 2022
Where do you call home? Santa Cruz, California
With all of the choices for college, what made UC Santa Cruz stand out? UC Santa Cruz, and specifically the Politics Department, stood out for its unique intellectual tradition and its encouragement of interdisciplinary work across the social sciences and humanities. Additionally, access to resources throughout the UC system was extremely appealing in thinking about how to carry out my dissertation project.
What is your field of focus? Comparative Politics, International Relations, and Law and Society
What do you hope to do once you graduate from UC Santa Cruz? I hope to continue teaching politics and law within higher education. I am especially passionate about working with underserved and marginalized students as they navigate their college education. In terms of my own research, I hope to contribute toward our understanding of how law and politics impact access to justice and, in some small way, to work toward increased collaboration between scholars in the Global North and South.
What is one memorable moment that stands out for you as a student here? I am very fortunate to have worked with all the students in my sections over the years. Taken together, they are an extremely motivated and hardworking group who, despite individual obstacles, are always ready tackle all the course material. I really appreciate the trust they have put in me over the years to help them through their courses.
What is your one piece of advice for incoming students about life at UC Santa Cruz? Continue to seek out a community across disciplinary borders. The campus is beautiful and serene, but the way it's built around smaller communities, rather than one central heart of campus, makes it difficult at times to understand all that's on offer. Attend events, reach out to professors in different departments, take classes outside your department, and I think you'll find an eclectic and rewarding community.
How will this scholarship impact your academic life /research? This scholarship will support my summer 2021 research as I prepare for fieldwork overseas in 2022.
See
Also