Jacqueline Paniagua
Name:  Jacqueline Paniagua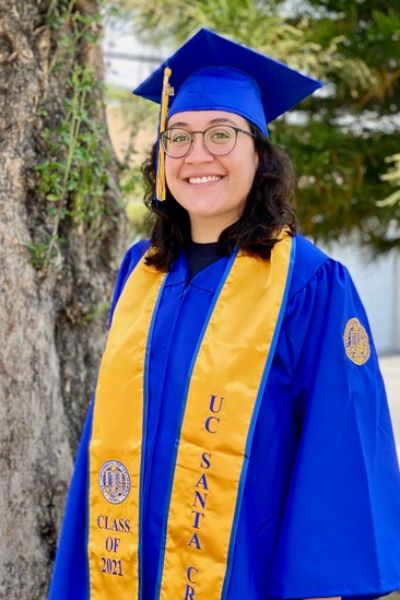 College:  Kresge College
Department:  Anthropology and Latin American and Latinx Studies
What Award/ Scholarship did you receive?  Dr. Midori Arima Scholarship in Anthropology
What year do you expect to graduate? June 2021
Where do you call home?  I was born and raised in the San Fernando Valley of Los Angeles and currently residing in the city of Glendale, California.
With all of the choices for college, what made UC Santa Cruz stand out?  The beautiful campus and greenery. From the forest to the beach, Santa Cruz is the best of both worlds and I miss living in Bonny Doon so much.
What is your field of focus?  I would say my field of focus is on political economy and ecology, black and latinx geographies, environmental and historical archaeology.
What do you hope to do once you graduate from UC Santa Cruz?  I hope to head straight into graduate school and PhD programs in either Anthropology, LALS, or Geography. I plan to apply this Fall and look forward to beginning the next 10 years of my life doing graduate research and beyond.
What is one memorable moment that stands out for you as a student here?  The most memorable moments for me at UCSC include enjoying the campus environment and atmosphere. Although I didn't live on campus, I made the most out of exploring new spots and trails, and spending a lot of time at the McHenry Library.
What is your one piece of advice for incoming students about life at UC Santa Cruz? I would advise incoming students to not be afraid to ask for help. There are many resources on campus that can assist in your learning, mental health, and overall college experience. Don't hesitate to join student organizations, clubs, independent research programs etc. and reaching out to faculty/staff, teaching assistants, and peers when you need support.
How will this scholarship impact your academic life /research?  This scholarship with definitely impact my academic life because it will provide me with the much-needed financial assistance that comes with the graduate school application process this Fall.
See
Also