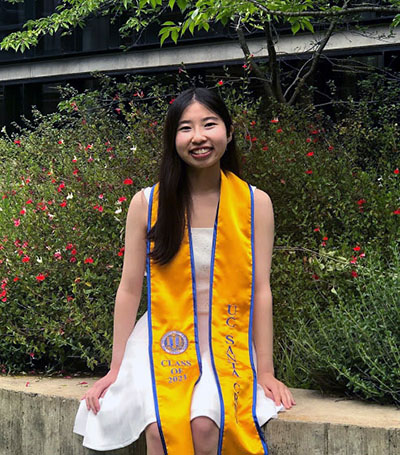 Name: Kimberly Dare          
College: College Nine
Department: Environmental Studies
What Award/ Scholarship did you receive? I received the 2020-21 Deans' and Chancellor's Undergraduate Awards for my senior thesis.
What year do you expect to graduate? June 2021
Where do you call home? I am from the Bay Area.
With all of the choices for college, what made UC Santa Cruz stand out? UCSC definitely stood out to me because of how the campus is embedded in the forest. At first, I was unsure about coming to UCSC for several reasons, one of them being that my first choice of major was not available here. However, I cannot imagine what it would be like had I not come here and chosen to be an Environmental Studies major. Coming to UCSC was not what I initially planned to do in high school, but I now believe that I needed to be here.
What is your field of focus? As an Environmental Studies major and Education minor, I tend to gravitate towards environmental education opportunities. Also, I became more interested in diversity and inclusion efforts during my sophomore year!
What do you hope to do once you graduate from UC Santa Cruz? I would ideally love to teach abroad one day! A huge part of me wants to be able to have that international experience sometime in the future. In the meantime, I will consider looking for jobs in the education or environmental fields. If possible, I would love to stay in the intersection of environmental education.
What is one memorable moment that stands out for you as a student here? A memorable moment that stands out for me is being able to talk about my pet bunny in a meeting with Dean Mitchell!
What is your one piece of advice for incoming students about life at UC Santa Cruz? My one piece of advice is to not be afraid to just randomly introduce yourself to others—peers, faculty, lecturers, etc. I am beyond grateful for the network and community that I managed to build by just talking to others with no expectations. I ultimately learned from a very diverse group of people, allowing me to broaden my perspectives, challenge myself in ways that I had never thought about before, and enrich my professional and personal growth.
How will this scholarship impact your academic life /research? I am still in awe that I received this scholarship! About a year ago, I had no intention of writing a senior thesis as I didn't feel strongly compelled enough to write on a topic nor did I have a faculty sponsor. After receiving encouragement from others and coming across a topic that sparked my interest, the opportunity was difficult to turn down. Little did I know that my thesis would be the culmination of my undergraduate journey! This opportunity combined my academic interests, values, and experiences all together, in addition to allowing me to still feel connected to my ENVS community in a remote setting. The number of people excited about my research topic and the magnitude of support are still astonishing to me. To be honored with these awards further validates all my efforts, uplifts the voices of my thesis interviewees, and demonstrates the significance of diversity and inclusion in the higher education setting.
See
Also