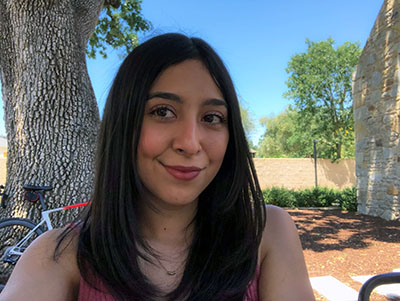 Name: Montserrat Lopez
College: College 10
Department: Latin American and Latino Studies, Spanish Studies
What Award/ Scholarship did you receive? 2021 Weiss Family Scholarship
What year do you expect to graduate? 2021
Where do you call home? Pittsburg, California (Bay Area)
With all of the choices for college, what made UC Santa Cruz stand out? UCSC stood out to me the most because of the Latin American/Latino Studies and Spanish Studies bachelor's program. I took great interest in the classes and the professors' research. I was a bit hesitant at first to declare these majors because my community college didn't offer many courses on the subjects of Latin America and Latinos in the US. As a Latina, I knew I was interested in learning about Latin American and Chicano literature and already knew a lot about the history of my parents' country, Mexico. When I visited UCSC I was still deciding which college to transfer to and then I just fell in love right away with the atmosphere and the trees surrounding this beautiful campus. During this trip, I visited the LALS department, and Ursula, the LALS advisor, was so welcoming. Without setting up a meeting, she talked to me about the LALS program, internships, and even created an academic plan for me. This convinced me to pursue my degree in LALS and I then decided to enroll at UCSC. I have loved all my classes in both my majors and am so grateful for choosing UCSC.
What is your field of focus? Latin American and Latino Studies B.A, Spanish Studies, concentration in Literature B.A
What do you hope to do once you graduate from UC Santa Cruz? As soon as I became a senior, I began to explore educational opportunities that would benefit a possible career and that would revolve around art and television. By joining the Human Rights Investigations Lab at the Research Center for the Americas (RCA), I learned about Open Source Investigations (OSI), So after graduation, I hope to secure an internship that fits any of those career fields. I'm beginning to apply to OSI jobs, and want to continue my knowledge as a digital investigator for human rights with a focus on Latin America and Latinos in the US. In the future, I also want to further my education, and maybe even teach Spanish literature for community college students.
What is one memorable moment that stands out for you as a student here? There are so many memorable moments I have as a student, from my research internship at the Research Center of the Americas to my work as the LALS Peer Advisor, and from publishing my art in UCSC student magazine (TWANAS). However, my most memorable moment has been working with my amazing RCA research team, where I learned how to conduct research and create a digital story using ArcGIS Story Maps to advocate for social justice.
What is your one piece of advice for incoming students about life at UC Santa Cruz? One piece of advice is to never give up applying to opportunities to grow your skills and knowledge. I always like to think like this: "ifyou don't try and apply, then you won't be accepted, but if you do apply, there's always a chance you will be accepted." This piece of advice can apply to many instances, like when you are applying to top universities or applying for your dream internship or career. This can also give you a chance to connect with mentors, professors and your peers and start creating connections.
How will this scholarship impact your academic life /research? I am so grateful for this scholarship! This scholarship came as a surprise and I was so thrilled to have received this scholarship, which will contribute to my success. I will be graduating soon and will use the money to pay off some of my school debts. Mil gracias!
See
Also