Nivie Oron
Name: Nivie Oron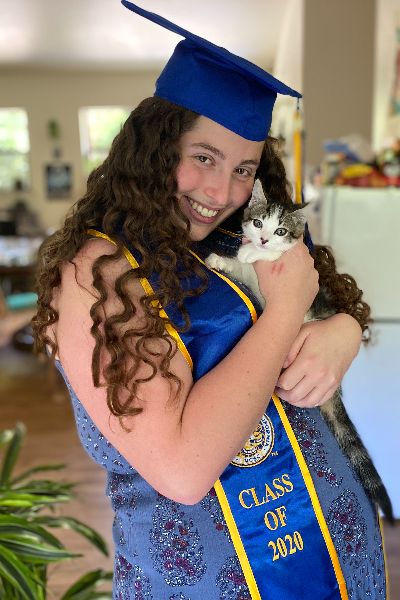 College: Kresge
Department: Sociology
What Award/ Scholarship did you receive?  Sociology of Race, Class, and Gender Senior Thesis Award and Dean's Undergraduate Award
What year do you expect to graduate? I graduated in 2020.
Where do you call home?  Marin county, California  
With all of the choices for college, what made UC Santa Cruz stand out?  The beautiful campus, and especially the redwood trees.  
What is your field of focus?  I study sociology, psychology, and education (minor). I am especially interested in the public school system (and inequalities in education), weight stigma, and other areas where my majors and minor overlap.
What do you hope to do once you graduate from UC Santa Cruz?  I am planning to take a break, travel, and eventually go to graduate school.
What is one memorable moment that stands out for you as a student here?  Completing my thesis and proving to myself that I can do something so challenging is a moment I will never forget! Also, I will never forget the wonderful, kind, and accommodating treatment I received by the Disability Resource Center. 
What is your one piece of advice for incoming students about life at UC Santa Cruz?  Challenge yourself to go to office hours of a professor that you look up to – even just to introduce yourself or to bring up something that has been interesting to you from the class! Also, study what you are truly passionate about and what makes you excited about learning.  
How will this scholarship impact your academic life /research?  It impacts my academic life (and my life generally) to know that people read my thesis and thought about it critically. This scholarship motivates me to work on my research project further and to try and find accessible ways to share the information and findings with more people. It is a reminder that I am not done engaging with this research and that this is only the beginning!
See
Also