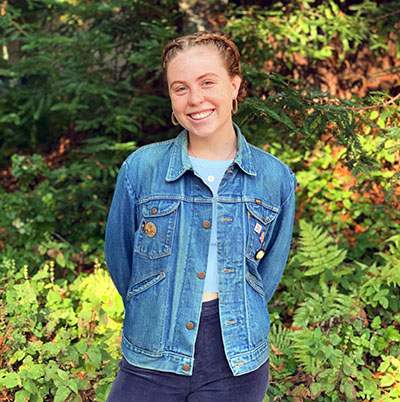 Name: Siena Elvins
College: College Ten
Department: Community Studies
What Award/ Scholarship did you receive? The Dean's Award for the Social Sciences Division
What year do you expect to graduate? I will be graduating Spring 2021!
Where  do you call home? I live in Santa Cruz, but am from San Diego!
With all of the choices for college, what made UC Santa Cruz stand out? I was drawn to UCSC's commitment to social and environmental justice.
What is your field of focus? My Community Studies emphasis is in Health Justice, but I have been focusing on Housing Justice in particular the past couple of years through both of my majors-- Sociology and Community Studies.
What do you hope  to do once  you graduate from UC Santa Cruz? I will be working for Abode Services in Santa Cruz as a Case Manager/Housing Navigator for folks experiencing homelessness!
What is one memorable moment that stands out for you as a student here? Among my most memorable times with UCSC have been participating in various strikes and protests to push the university to do better for the climate, undocumented students, grad students, campus workers, and more.
What is your one piece of advice for incoming students about  life at UC Santa Cruz? I would encourage new students to try new things, step outside of their comfort zones, and participate in campus life outside of academics.
How will this scholarship impact your academic life /research? I am proud to represent the Community Studies program and encouraged to continue my studies and research in graduate school!
See
Also