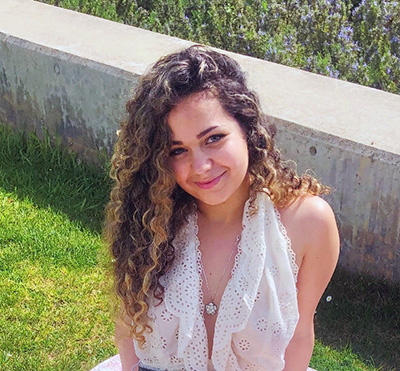 Name: Sophie Kennedy
College: College Nine
Department: Psychology
What Award/ Scholarship did you receive? Deans' Award
What year do you expect to graduate? 2021
Where do you call home? Los Angeles
With all of the choices for college, what made UC Santa Cruz stand out? I was drawn to the campus' emphasis on the importance of research, as well as its overall sense of community.
What is your field of focus?
Psychology
What do you hope to do once you graduate from UC Santa Cruz? I'm planning on going to graduate school and pursuing clinical psychology.
What is one memorable moment that stands out for you as a student here? Overall, the Professors and TAs at this university have left me with many memorable moments. I'm incredibly grateful for all the support and encouragement I've received throughout the years: their willingness to continue conversations beyond the classroom, as well as their assistance and dedication in helping me pursue my goals in research.
What is your one piece of advice for incoming students about life at UC Santa Cruz? Talk to everyone, especially those who challenge your ideas. Don't be afraid to step out of your comfort zone. Be open to learning from others, and to pushing yourself intellectually.
How will this scholarship impact your academic life /research? This scholarship has played a role in motivating me and inspiring me to continue pursuing research.
See
Also