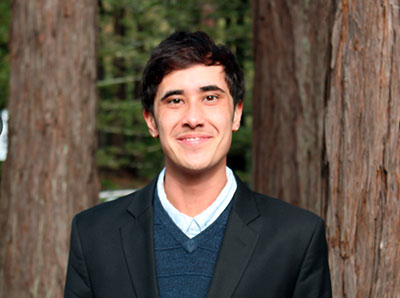 Name: Syd Abad
College: Kresge
Department: Community Studies and Politics
What Award/ Scholarship did you receive? 2021 Gabriel Zimmerman Memorial Scholarship
What year do you expect to graduate? 2022
Where do you call home? Goleta, California
With all of the choices for college, what made UC Santa Cruz stand out? UC Santa Cruz has been my first-choice college since I was 15 years old because of the beautiful redwoods, proximity to the Bay Area, and the exceptionally politically-active student body. Having learned about the many student-led movements throughout the history of UC Santa Cruz, I knew I would find my place here.
What is your field of focus? Within my studies of Politics and Community Studies, I am focusing predominantly on U.S. Politics and economic justice. I am very interested in the subject of electoral reform because I believe that corruption in politics is fueled by the lack of campaign finance oversight and regulations. I also believe that with extensive electoral reform, we can better work towards developing an economic system that puts people and the planet over profits.
What do you hope to do once you graduate from UC Santa Cruz? I hope to work in the field of legislation after graduating from UC Santa Cruz, either returning back to work in the California State Capitol or relocating to D.C. It would be my dream to work on staff for a progressive member of the legislature, and eventually I may consider running to join the California State Legislature or Congress if I feel that is right for me. Ultimately, I want to see significant shifts of power take place in our political system so that working-class people of marginalized backgrounds will no longer feel disenchanted and abandoned by politics. It's about time to start seeing more BIPOC and leftist queer folks take over our political arenas!
What is one memorable moment that stands out for you as a student here? As a Junior transfer, this year has been my first at UC Santa Cruz. A memorable moment that stood out to me as a student here was when my peers and I found commonality in the fight for economic justice among college students by launching Santa Cruz Student Action. Since our inception, we've launched a petition demanding increased financial transparency as well as expanded funding for students, led a meeting with administrators presenting our demands, and have been growing into a larger base with greater peer involvement.
What is your one piece of advice for incoming students about life at UC Santa Cruz? Now is the prime time to try out new things. When working to discover what you are passionate about, determining what you don't like is also extremely valuable. Take this time at UC Santa Cruz as an opportunity to not only learn more academically, but also to learn more about what sparks your passion and gets you excited to wake up in the morning. Start and join groups, volunteer, pursue internships, and take full advantage of the opportunity to take courses you're curious about!
How will this scholarship impact your academic life /research? As I embark on my six-month full-time field study in San Francisco this July, this scholarship award will provide me with the financial security I'll need in order to invest more energy into the organization I will be volunteering with. Coming from a middle-class household, my EFC unfortunately disqualifies me from many financial aid awards despite handling my own finances. To be awarded this scholarship is not only humbling, but it also eases a great amount of financial stress so that I can serve my field study organization to the best of my best ability. Now, I won't have to worry about finding a part-time job in addition to my full-time field study. I am beyond grateful to have been selected as a recipient of this meaningful award.
See
Also