Yesenia Vega
Name:  Yesenia Vega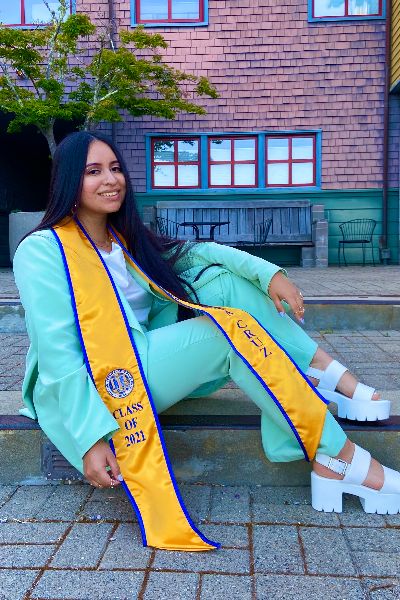 College: Merrill
Department: Psychology and Sociology/Latin American and Latinx Studies
What Award/ Scholarship did you receive?  Dr. Aaronette White Scholarship
What year do you expect to graduate?  I am a first-gen, low-income college student who is graduating Spring 2021.
Where do you call home?  I am from Sacramento, California. Sacramento is my home, as well as Michoacán/Oaxaca/Veracruz (my communities in México).
With all of the choices for college, what made UC Santa Cruz stand out?  I decided to attend UC Santa Cruz to study Latin American and Latinx Studies. I received amazing support my first year through EOP Bridge, a college access program for first-gen, low-income students. EOP Bridge built the foundation for my academic and professional success.
What is your field of focus?  I will be receiving my B.A. in Psychology and B.A. in Sociology/Latin American and Latinx Studies Spring 2021.
What do you hope to do once you graduate from UC Santa Cruz?  After graduating from UCSC, I will be moving to the East Coast over the summer to attend graduate school. I am going to the University of Rhode Island with full funding to pursue a M.S. in College Student Personnel. I will be a Graduate Hall Director during this time. After receiving my M.S., I hope to continue working in the field of higher education in a social justice space that centers and empowers underrepresented students.
What is one memorable moment that stands out for you as a student here?  One of the most memorable moments I have at UCSC is attending EOP for Academic Advising. I will never forget that my EOP Counselor told me that my identities and lived experiences are assets that I bring with me to the University. This affirmation allowed me to believe that I am worthy and enough solely for being who I am, and I belong at UCSC. Whenever I felt imposter syndrome at UCSC, I reminded myself of that advice given to me.
What is your one piece of advice for incoming students about life at UC Santa Cruz?  I have learned to embrace my identities as a queer WOC and lived experiences at UCSC through the support I have received at EOP, and I want more first-gen students to recognize their worth. I want all first-gen students to know that you are valuable! Your knowledge, lived experiences, and cultural wealth are assets that make you resilient and amazing.
How will this scholarship impact your academic life /research?  It is an honor to be awarded the Dr. Aaronette White Scholarship because she paved the way for women of color in higher education, such as myself, to use intersectionality theory and extend it to everyday life. Similar to Dr. White, I want to center the voices of underrepresented individuals in the research I continue doing in graduate school and outside of academia. Using intersectionality theory has allowed me to acquire a new perspective and passion for societal issues. As a first-gen, low-income, queer Mexicanfemme, intersectionality theory has been critical in my understanding of social justice and diversity advocacy. I honor and admire the Black feminists who coined this theory and have forever shifted the way we talk about BIPoC, LGBTQ+, low-income, and underrepresented communities.
This scholarship will support me in funding my graduate studies and move to the East coast. Thank you so much!
See
Also