Ruth and Alfred Heller Endowed Chair in Agroecology

First holder of the Ruth and Alfred Heller Endowed Chair in Agroecology, Stephen Gliessman.
The Ruth and Alfred Heller Endowed Chair in Agroecology was founded in December of 1982 with a $375,000 gift from Ruth and Alfred E. Heller and was the first endowed chair at UC Santa Cruz.
By 1980, concerns over conventional agriculture's impacts on soil and groundwater, the development of pesticide-resistant "super pests," and a growing interest in organic farming made the UC Santa Cruz Farm & Garden's activities relevant to a broader audience than in earlier decades. In response, UCSC's Environmental Studies Board proposed a new program in agroecology, or the application of ecological principles to agricultural settings, with the Farm & Garden as the program's on-campus headquarters.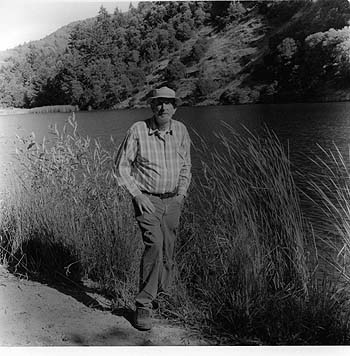 Alfred Heller, a leader for sustainability.
Led by professor of agroecology Stephen Gliessman, who joined the Environmental Studies faculty in 1981, the Agroecology Program was the first UC project to focus on what would come to be known as "sustainable" agriculture systems and to pursue research on organic production techniques. Dr. Gliessman was the chair's first holder and currently holds that position.
In 1993, following the recommendation of an external review committee, the Agroecology Program's name was changed to the Center for Agroecology & Sustainable Food Systems to reflect the center's dual interests in both environmental and social aspects of sustainable agriculture.
The Heller family's ties to UC Santa Cruz began with Alfred's mother, Elinor Heller, who was the first woman chairman of the University of California Board of Regents. She was a close friend of Dean McHenry, and it was with her support that Dean McHenry and Clark Kerr designed the Santa Cruz campus. Heller Drive is named in her honor.
Alfred Heller and the entire Heller family are very environmentally conscious, health conscious, concerned with the welfare of children, and active in supporting these causes. Mr. Heller has been a leader in orienting the environmental community toward the future. He is one of the founders of "California Tomorrow" and through this organization challenges others to take a closer look at what the definition of 'progress' in California really means, contending that beauty and productivity can go hand in hand. His organization published the 1962 landmark publication "California Going, Going," which was the first detailed study of the state's deteriorating environment. Alfred E. Heller is the former president of the Clarence Heller Charitable Foundation and currently serves on its Board of Trustees. The mission of the Clarence E. Heller Charitable Foundation is to protect and improve the quality of life through support of programs in the environment, human health, education, and the arts.
See
Also