Climate Science & Policy Conference 2015
Watch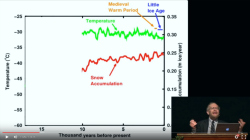 View videos from the 2015 conference here.
The Divisions of Physical & Biological Sciences and Social Sciences hosted the second annual Climate Science and Policy Conference on Friday and Saturday, March 13 and 14, 2015. The two day event featured top climate scientists and policy experts from across the country in a series of talks and panel discussions.
The overarching theme was "No Prospect of an End": Living with an Ever Changing Climate. The quote from James Hutton's Theory of the Earth is not meant to be depressing. Rather, we want to remind (or enlighten) audience members that if we do not dramatically reduce greenhouse gas emissions, we may trigger a rapid shift in climate that might not slow for a millennium, and that those new hot conditions might last many tens of millennia. From a societal perspective, climate change would seem never ending, and predicting environmental conditions in that future "hot house" world will be very difficult.
See
Also