Climate Science & Policy Conference 2016
Watch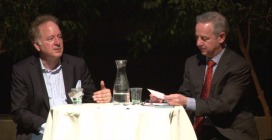 View the replay of the 2016 conference here.
The Divisions of Physical & Biological Sciences and Social Sciences hosted the third annual Climate Science and Policy Conference on February 26 and 27, 2016. The two day event featured top climate scientists and policy experts from across the country in a series of talks and panel discussions.
The overarching theme was "Earth's Climate Future: Uncharted Territory." Panels focused on public health, geoengineering, and geopolitics.
The opening keynote address was delivered by Ken Caldeira, a climate scientist working for the Carnegie Institution for Science, Department of Global Ecology at Stanford University. He investigates issues related to climate, carbon, and energy systems.
The Fred Keeley lecture was delivered by Steven Chu, a professor of physics and molecular & cellular physiology at Stanford University. Chu served as the US Secretary of Energy from 2009 to 2013 and in 1997 was awarded the Nobel Prize in Physics.
See
Also